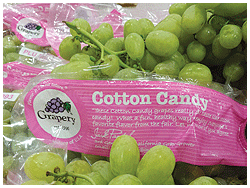 Cotton candy is one of the favorite and the most
memorable
things in our childhood, isn't it? However, as we grow up, we hesitate to eat it because it has too much sugar in it. For those of you who want to eat cotton candy again without worries, let me introduce something healthier. It is cotton candy-flavored grapes!
Cotton candy-flavored grapes are
literally
grapes, but they taste just like cotton candy. David Cain, a former USDA scientist, created this "healthy junk food." "We're trying to
compete
with candy bars and cookies and real cotton candy. So we want to develop varieties that especially kids like to eat so they will
consume
more fruit," he explained.
In 2003, Cain began his experiment for this brand new type of fruit. He crossbred different varieties of grapes to make it. In fact, this experiment was not easy, because he wanted the grapes to be all natural without using genetic engineering. He explained that it took about ten years for the grapes to taste like cotton candy. In addition, there had to be 100,000
test-tube
grown plants to make the experiment succeed.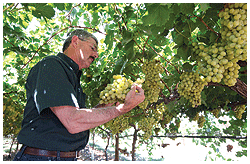 This sweet fruit is completely natural. It is also known that it contains less sugar than
raisins
and much healthier than cotton candy. For this reason, many people wish to purchase this
brilliant
fruit. According to Cain, the first
batch
of cotton candy grapes took up two
acres
of land at the vinery in Bakersfield. As it became so popular, the second batch of them was planted on 100 acres of land.
Customers of this fruit said, "It's an
exclusive
grape you can't find anywhere right now," "Whatever works to get children - and adults - eating better. I'm a big fan of that!"
People are truly in love with these grapes!