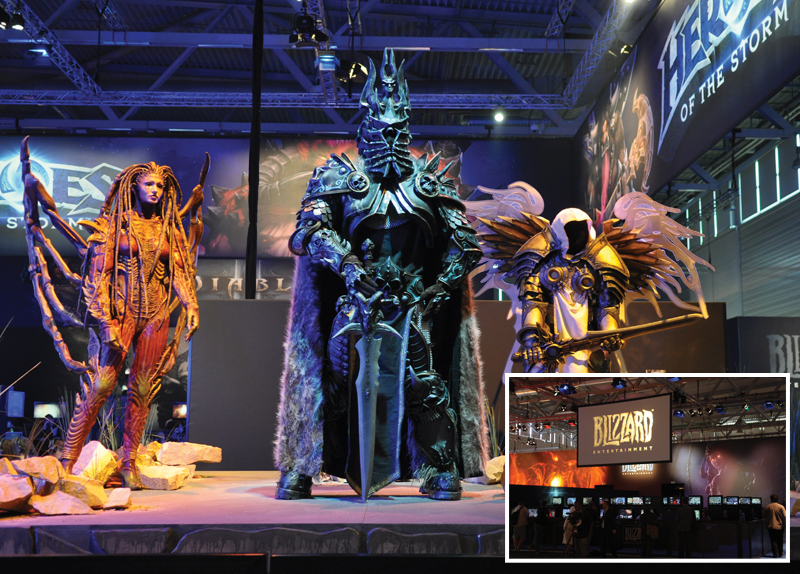 Ever played StarCraft? One of the giants among interactive games and entertainment companies, Blizzard Entertainment was the original creator of the hit game. Blizzard has always been known for their active will to communicate with its users on their forums. In an attempt to take another step with their users, Blizzard's much anticipated collaboration with Facebook finally went live on Aug. 26.
Blizzard Entertainment and Facebook have joined forces to strengthen their intake of user responses and provide fresh fun content to the world-wide stage via Facebook. This will allow users to use their Facebook accounts to log-in to the amazing game worlds created by Blizzard. Blizzard has long wanted to make it easier for users to post their gaming experiences on Facebook. Gamers will now get to share their characters' appearance and post gameplay strategies. Blizzard's new attempt at viral marketing will also help them to advertise their games, help promote the eSports genre, as well as give more user based content on Facebook.
The California-based company was founded in 2008 by the merger of Vivendi Games and Activision. The master crafter of games and entertainment consists of five units: Activision, Blizzard Entertainment, Media Networks, Activision Blizzard Studios, and the newest addition, King Entertainment. Blizzard was picked as one of the 100 Best Companies to Work For by Fortune magazine. The company has always been famous for taking the time to raise the excellence of their digital creations, as well as communicating with the user base. One of their latest releases, Overwatch, demonstrates Blizzard's commitment to their games and the gaming community. This phenomenal game actually became the fastest selling game ever in its initial release month. Critics and gamers alike have fallen in love, garnering unusually high Metascore ratings of 91/100 for PC, 90/100 for the PlayStation 4, and another 91/100 for the Xbox One.
Despite all this success, there is still one obstacle in Blizzard's way. The recent release of Pokemon Go highlights Blizzard's failure to break into the mobile market. The "freemium" game has swept the world with its augmented reality (AR) technology and has stopped Overwatch's popularity in its tracks. The new Pokemon game, since its recent release in the U.S., has gone viral with the help of a massive Pokemon fan base and the powers of social media networks.
Blizzard has experienced some success installing its PC game Hearthstone onto mobile platforms. But it still has a long way to go before claiming the throne of the mobile gaming market. Augmented reality company, Niantic, made successful partnerships with Nintendo, Google, and Pokemon Company International to create this year's biggest hit. Perhaps Blizzard will follow suit with similar versions of their games on mobile gaming platforms.
With the gaming industry ramping up competition every month, Blizzard has allied with Facebook and King Entertainment to resist the onslaught of other industry alliances such as Nintendo and Google. Even Kakao's merger with Daum has created a powerful gaming network among its millions of users. Although many see Blizzard's effectiveness slowing, they hope to break into the mobile market with viral marketing strategies using Facebook. In fact, Blizzard owns tons of intellectual property rights, and there are millions of fans excited about their work. If Blizzard can effectively network their consumers into becoming producers of content, the long-time gaming company could enter a new era of its storied success.