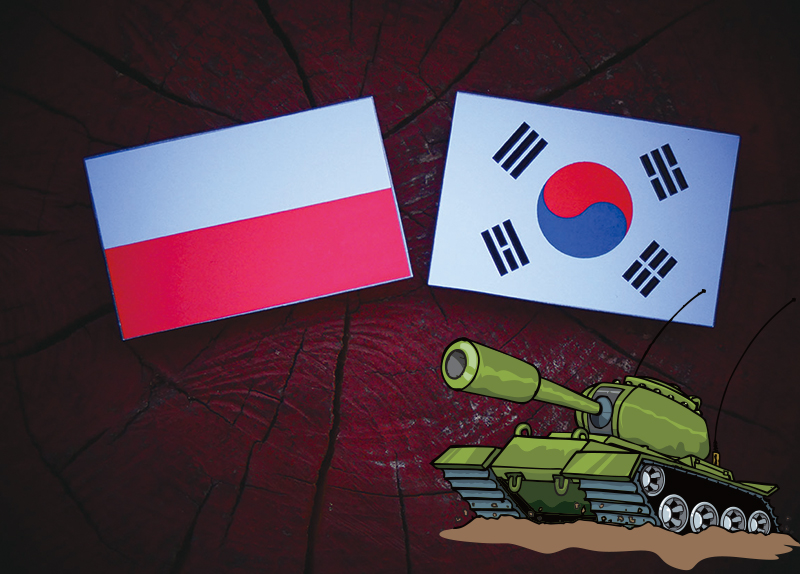 Poland and South Korea have come to an agreement in which Poland will buy 980 K2 tanks, 648 K9 armored howitzers, and 48 FA-50 fighter jets from the East Asian country. It is the largest ever weapons export deal South Korea has made. Poland was in need of more military equipment after arming Ukraine in its defense against Russia's invasion. The financial terms of the deal have not been disclosed.
180 of the Hyundai Rotem-manufactured K2 tanks, along with 48 howitzers, will be shipped to Poland by the end of the year. 600 more howitzers will begin being delivered from the start of 2024. 800 tanks will be produced within Poland beginning in 2026.
South Korea's FA-50 fighter jet is manufactured by Korea Aerospace Industries along with Lockheed Martin. It has been used by the South Korean Air Force since 2013 and has been exported to countries such as Thailand, the Philippines, Colombia, Iraq, and Indonesia. It features three-barreled 30-mm cannons as well as Sidewinder and Maverick missiles. The aircraft also has precision-guided and gravity bombs.
During a recent visit to Seoul, Polish Defense Minister Mariusz Błaszczak expressed his confidence in Korea's military equipment. He said that Korean equipment has been developed due to the "challenge of its northern neighbor, who also conducts an aggressive policy." South Korea's relationship with North Korea, according to the minister, ensures the quality of South Korea's military equipment.
Błaszczak also tweeted that the equipment will "significantly increase Poland's security and the strength of the Polish Army."