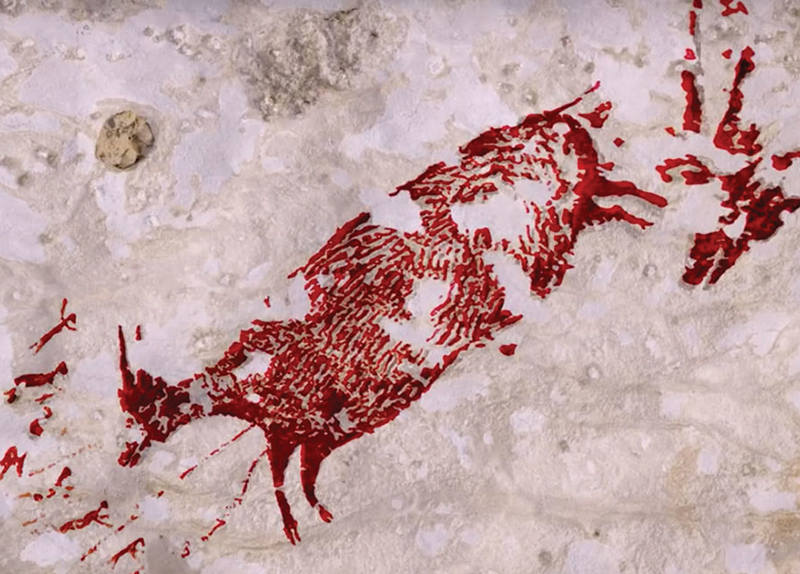 Discovered two years ago on the Indonesian island of Sulawesi, a 4.5-m-wide cave painting may be the world's oldest figurative artwork. It features wild animals being chased by hunters wielding spears and ropes, and researchers believe the painting is at least 43,900 years old.
Researchers from Australia's Griffith University published their study in a recent issue of Nature. They used advanced dating technology to confirm the age of the limestone cave painting. One of the researchers said, "This hunting scene is, to our knowledge, currently the oldest pictorial record of storytelling and the earliest figurative artwork in the world."
Archaeologist Adam Brumm, one of the authors of the study, said, "I've never seen anything like this before. I mean, we've seen hundreds of rock art sites in this region, but we've never seen anything like a hunting scene."
Back in 2014, other researchers spotted figurative art on Sulawesi believed to be around 35,000 years old. Last year, an animal painting was discovered on Borneo, another Indonesian island. These discoveries shook the world of parietal art, as cave art had been thought to have emerged from Europe. There are at least 242 caves and other shelters with ancient imagery just on Sulawesi, and new sites are being discovered each year.