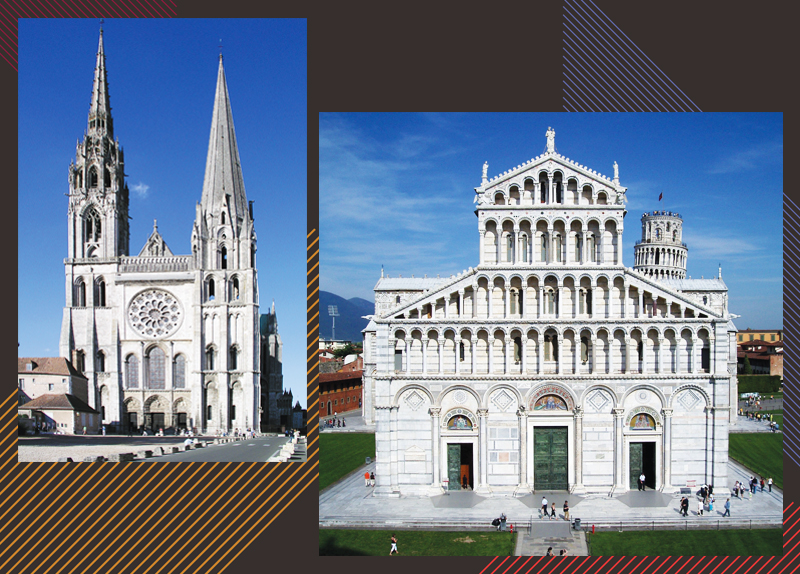 France and Italy are two of the world's greatest seats of art, religion, and history, and all three elements coexist in their grand edifices and have stood the test of time.
Chartres Cathedral in France attracts Christian pilgrims and tourists from around the world thanks to its exquisite architecture. It is also home to the Sancta Camisia, the tunic believed to have been worn by the Virgin Mary.
Located 80 kilometers south of Paris, the cathedral looks like it is suspended midair against the backdrop of skies, treetops, and houses when seen from afar. The city of Chartres comes into view when approaching the cathedral.
Completed in 1220, the cathedral boasts a remarkable state of preservation, with its architecture seeing only minor changes since the early 13th century. Most of the 176 stained glass windows retain their authentic design.
The Pisa Baptistery is Italy's largest of its kind and the second of four buildings at Cathedral Square, together with the Pisa Cathedral, Campanile, and Monumental Cemetery.
The baptistery was dedicated to St. John the Baptist and its construction took 211 years. The fine white marble fa?ade is representative of the iconic Italian style of architecture using marble. The exterior abounds in arches and columns, and is ornamented with statues, vivid portrayals of events in St. John's life, and artworks depicting Jesus, Mary, and angels. In contrast, the interior of the baptistery is simple and without a lot of decoration. What makes it stand out is the pulpit and baptismal front at the center.