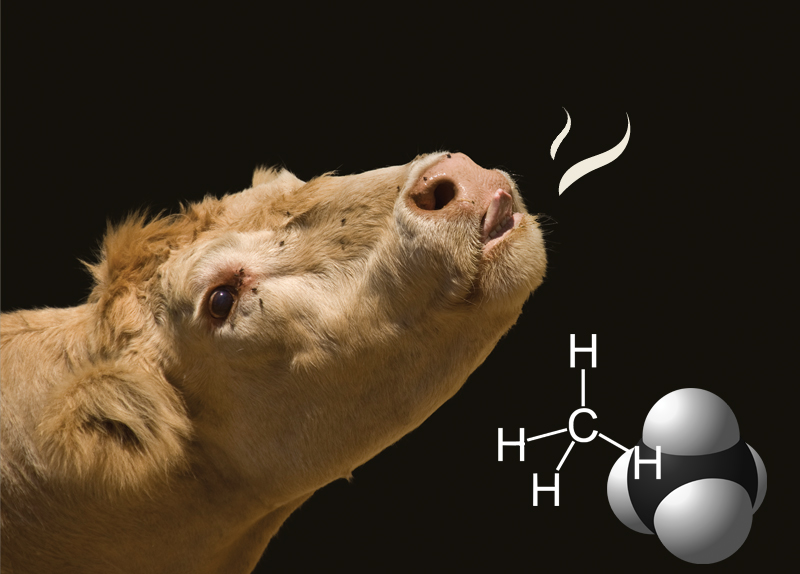 Whew! What is that smell? It's the smell of methane! Methane (CH4) is one of the greenhouse gases that causes global climate change. It comes from various sources, but one of the main causes of methane gas is from the livestock we raise. In 2016, there is an estimated 971 million cows being raised for both beef and dairy purposes worldwide!
Methane is made by natural causes, but it's also made from human activities. It is a byproduct of burning oil and coal for industrial purposes. It's also released from landfills that store human waste. Naturally, however, the smelly gas is made from animals as well as their manure, which is deposited into the ground as more waste. But the human demand for livestock has increased the populations of these animals to dangerous levels. All this methane actually has a more harmful effect on global warming than carbon dioxide (CO2). Even though methane lasts for a shorter amount of time in our atmosphere than CO2, methane still retains much more heat from the sun than carbon dioxide does.
According to the Crown Research Institute, more methane comes from a cow's breath than their fart. The U.N.'s Food and Agriculture Organization claims that cows and other livestock account for 18 percent more greenhouse gas emissions than transportation pollution. Our mooing companions provide us with some delicious beef and dairy products like milk, cheese, and butter. But just like humans, cows emit methane gas from their bodies when they eat. Can scientists find a solution to reduce methane output from our tasty bovine friends? Let's hope they can work out an answer soon!