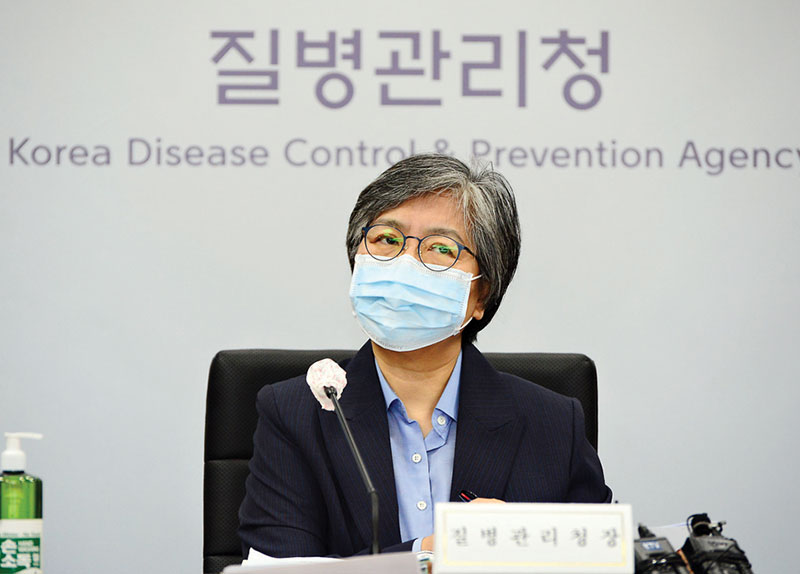 Jung Eun-kyeong, head of the Korea Centers for Disease Control and Prevention (KCDC), was featured in Time magazine's list of 100 most influential people of 2020. The Korean government has been praised for the preventative measures it has taken since the start of the outbreak, where Jung, as the director of KCDC, played a crucial role.
President Moon Jae-in attributed the successful response to Jung and commended her for her contribution. In Time, he stated that Jung "has led the nation's antivirus efforts to success by candidly interacting with the public, based on the principles of openness, transparency, and democracy."
According to President Moon, Jung actively took charge of handling the pandemic when COVID-19 first broke out in Korea. By actively interacting with the public, she garnered support from citizens.
Moon quoted The Plague, a famous French novel written by Albert Camus, saying, "Jung's decency and dedication are indeed a story worth telling ? one that will serve as an inspiration," as the world continues to cope with the virus.
Jung said the virus can survive on the skin for up to nine hours, while the influenza virus survives for less than two hours. She stressed, "We need to wash our hands and sterilize our surfaces thoroughly."
Jung obtained three medical degrees from Seoul National University, including a master's in public health and a doctorate in preventive medicine. After graduation, she worked at a small public health office in Yangju. Appointed in July 2017, she is the first female chief of Korea's national health agency.