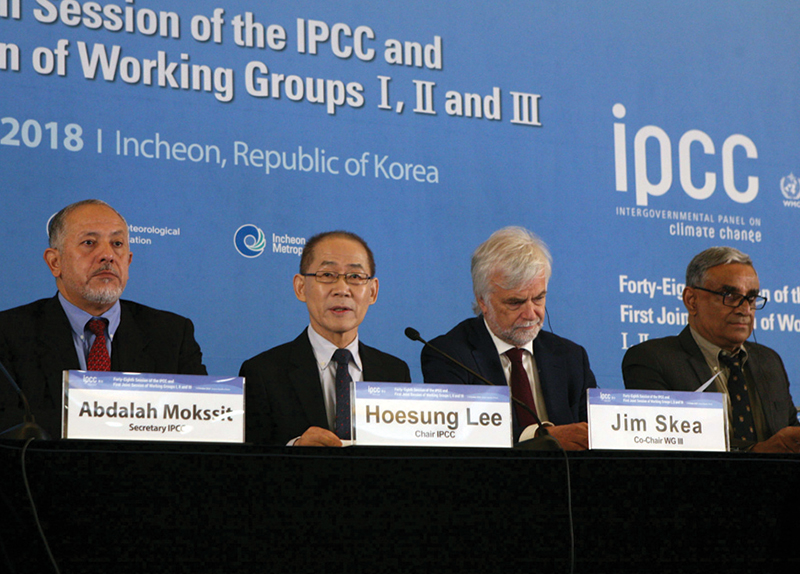 Last October, the Intergovernmental Panel on Climate Change's (IPCC) groundbreaking "Special Report on Global Warming of 1.5 Degrees Celsius," which showed the importance of the government's role in helping to limit global warming to 1.5 degrees Celsius by enacting measures to dramatically cut carbon dioxide emissions, made headlines worldwide, urging governments to make climate action a priority among the global agenda.
Lee Hoe-sung, the chair of the IPCC, was listed on Time's "100 Most Influential People in 2019" along with BTS. The IPCC plays a vital role in making the world's most authoritative scientific findings, statistics, and data on climate change accessible to decision makers and the public to help their understanding.
Ban Ki-moon, the former secretary-general of the United Nations, wrote in Lee's introduction in Time, "Despite a long list of achievements and titles, Lee remains humble and modest. His commitment to not only reduce emissions, but simultaneously increase economic opportunities and raise millions of people from poverty, is one of the many reasons why I admire him."
The IPCC, an international organization established by the United Nations Environment Program and the World Meteorological Organization in 1988 to supply information on climate change, currently has 195 member states, including the Korea Meteorological Administration.
Lee is an endowed chair professor at Korea University's Graduate School of Energy and Environment. His research encompasses the economics of climate change, energy, and sustainable development. He received his B.A. in economics from Seoul National University and a Ph.D. in economics from Rutgers University. He is a younger brother of Lee Hoi-chang, a former prime minister and three-time presidential candidate.