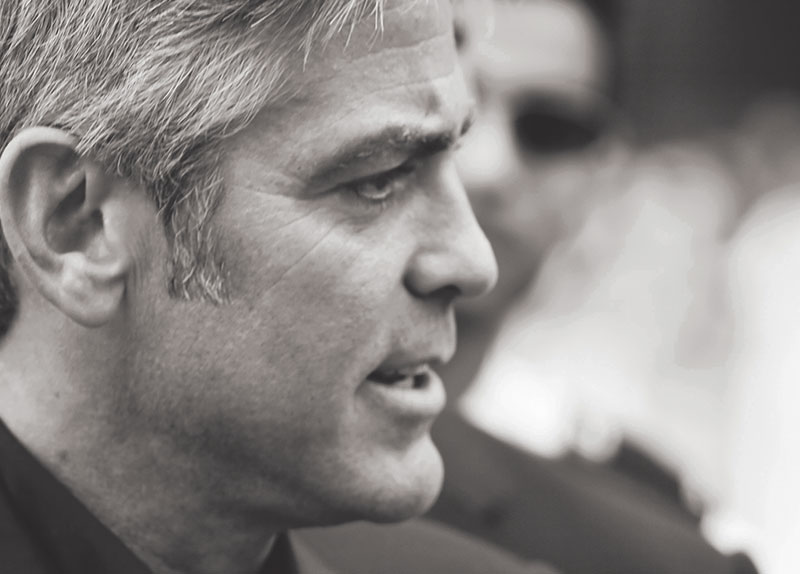 George Clooney is an American actor and filmmaker. He has received three Golden Globe Awards and two Academy Awards, and Forbes named him the world's highest-paid actor for 2017 to 2018. In 2009, Clooney was included in Time as one of the "Most Influential People in the World." Before acting, he made a living selling women's shoes and insurance, stocking shelves, and working in construction and on a tobacco field.
His acting career started with a role as an extra on a television mini-series. After playing several roles in sitcoms and television dramas, Clooney rose to fame when he played Doug Ross on the hit NBC medical drama ER from 1994 to 1999. Clooney was also cast in films while working on ER. His appearance in the action horror film From Dusk Till Dawn (1996) was his first major Hollywood role.
The most successful film Clooney starred in was Ocean's Eleven (2001), which earned $451 million (W536 billion) worldwide and inspired the making of its two sequels, Ocean's Twelve in 2004 and Ocean's Thirteen in 2007, both starring Clooney.
In 2002, Clooney debuted as a director with Confessions of a Dangerous Mind, which, according to critics, showed promise in Clooney's directing ability.
Clooney is also renowned for his political, economic, and humanitarian activism. He has served as a United Nations Messenger of Peace and a member of the Council on Foreign Relations. Clooney also founded the Not on Our Watch Project, an international relief and humanitarian aid organization. In addition, he is married to Amal Clooney, a human rights lawyer.