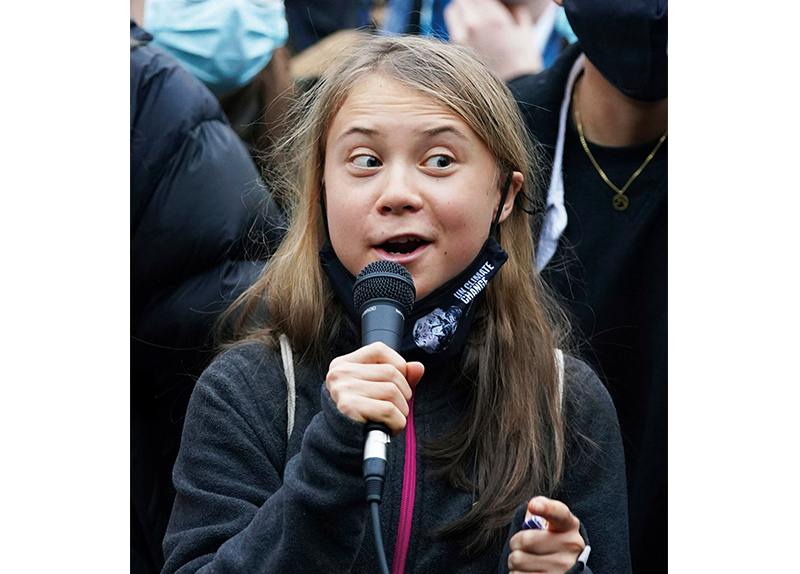 In the world of climate activism, one of the most well-known names is Greta Thunberg. At a very young age, Thunberg was diagnosed with Asperger syndrome, which is a type of autism. People with Asperger syndrome cannot socialize very well. But, another symptom of Asperger syndrome is being able to focus really deeply on one thing.
When she was 8 years old, she heard about climate change. She became deeply interested in it. She became a vegan, and she refused to ride in airplanes because of their high carbon footprint. She started to speak to people around her about climate change.
In 2018, she skipped school and walked to her country's parliament in Sweden. Thunberg sat quietly in front of the building with a sign that read "SCHOOL STRIKE FOR CLIMATE." At first, she was alone, but many people started joining her. Thunberg continued to protest once a week by skipping school on Fridays. Her protests caught the attention of the media, and soon, students all over the world followed her and held protests in their own countries.
Thunberg quickly became an icon in the fight against climate change. She received invitations from all over the world to speak. She spoke at the United Nations and parliaments around the world. In 2019, she rode in a solar-powered boat from the U.K. all the way to New York so that she could avoid riding an airplane.
Today, Thunberg continues to speak passionately all around the world to save the environment.