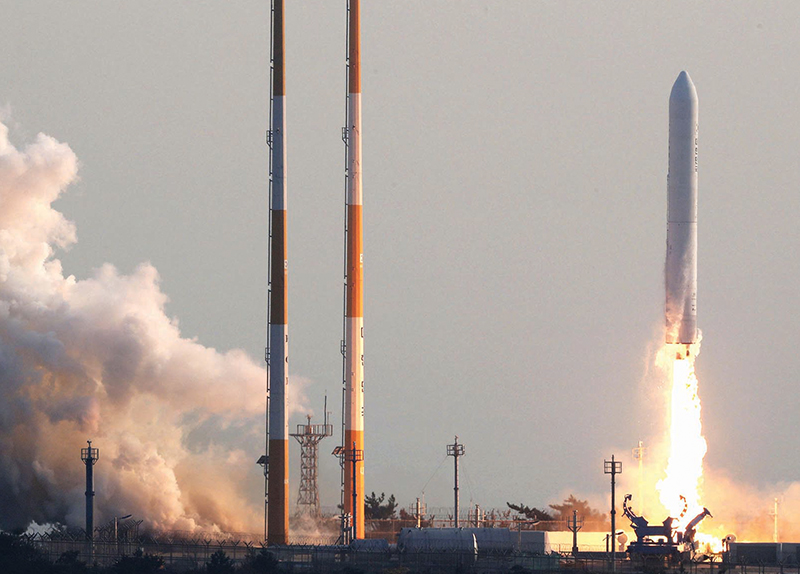 Korea has successfully flight-tested a rocket engine built on domestic technology. The single-stage rocket, with 75 tons of thrust, blasted off from the Naro Space Center in Goheung, South Jeolla Province, on Nov. 26.
According to the Ministry of Science and ICT, the rocket launched at 4 p.m. and achieved a burning time of 151 seconds, surpassing the goal of 140. The rocket flew up to a height of 209 km, just 319 seconds after liftoff. It landed safely in the water southeast of Jeju Island.
Engine performance and flight control systems were also tested during the flight, and they were verified by both the ministry and the Korea Aerospace Research Institute.
The rocket measured 25.8 m and weighed 52 tons. It was transported to the launch pad just a day earlier for a rehearsal. The test flight had originally been planned for Oct. 25 but was delayed due to mechanical problems.
Korea is currently working on building its own space vehicle, and this was a major milestone in the journey. The $1.8 billion (W2 trillion) project will culminate in the Korean Space Launch Vehicle-2, also called Nuri, expected to launch in 2021.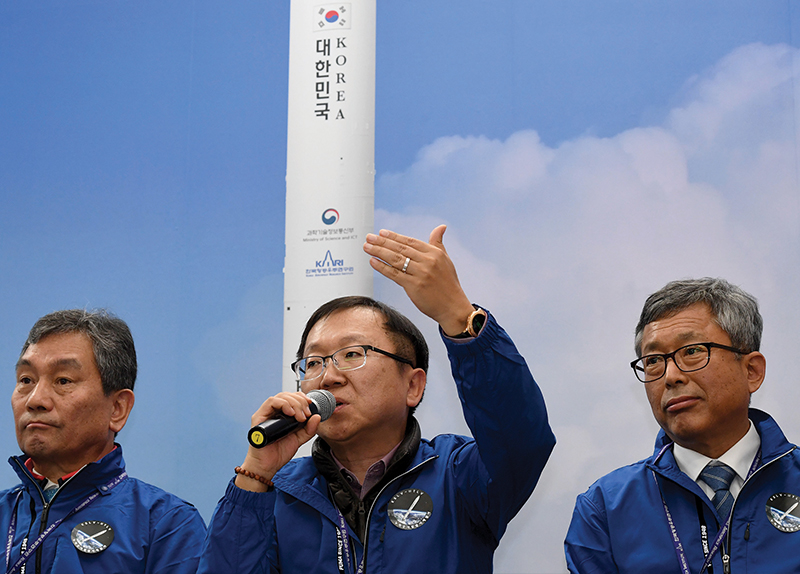 So far, technological development for Nuri seems to be going smoothly. It will be a three-stage rocket, with four of the booster engines in the first stage and one in the second, all using Korean technology. A different 7-ton thrust engine, yet to be developed, will be used in the third stage. Nuri will be used to put satellites in orbit and for other commercial purposes.
Korea placed its first satellite in orbit through a domestic launch in 2013, following failures in 2009 and 2010. There has not been a launch since, and the rocket used at the time was built with Russian parts.
But North Korea beat them to it, putting their first satellite in space in December of 2012, following a failed attempt earlier that year. The North made its first attempt in 1998, followed by other failures in 2006 and 2012. In February of 2016, a second satellite was successfully launched into orbit.
The North has future plans for space as well, including manned space flights and a manned, partially reusable launch vehicle. But the North Korean space program is widely regarded as a front for long-range missile technology.