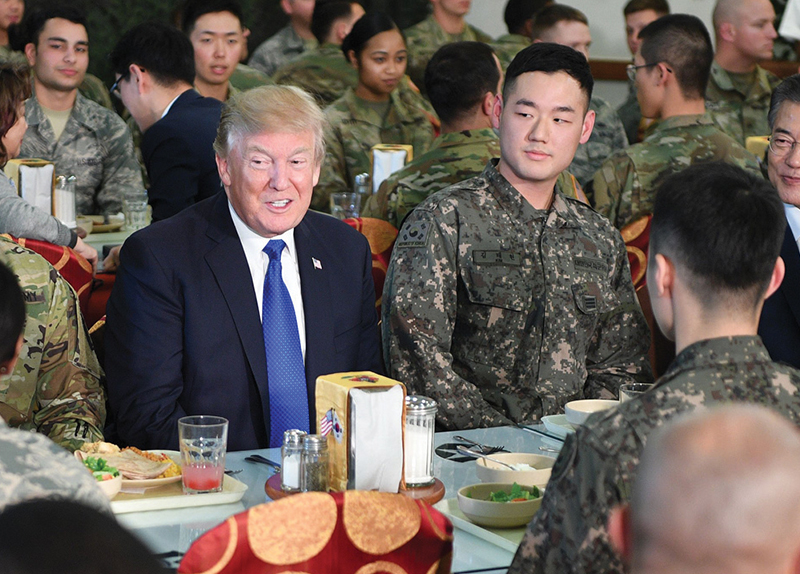 Negotiations between the U.S. and South Korea broke down last month, as the two countries attempted to reach an agreement on the cost of 28,500 U.S. troops stationed in Korea.
Earlier this year, Korea agreed to an 8 percent increase in its payment to the U.S., which resulted in a bill of close to $1 billion (W1.1 trillion). When combined with the use of rent-free land, Korea has paid for more than 40 percent of the total cost of the U.S. military's operation this year. That is in addition to the almost $10 billion (W11.7 trillion) Korea paid earlier this year for a new U.S. base at Camp Humphreys, which covered about 90 percent of the total cost.
Now, the U.S. wants Korea to contribute even more. During the talks, officials from the Trump administration reportedly demanded that Korea increase its payment to nearly $5 billion (W5.87 trillion), more than five times the amount the country paid in 2019. When Korean officials rejected the proposal, representatives of the Trump administration abruptly ended the meeting, accusing their Korean counterparts of being stubborn. It is unclear how the Trump administration calculated the $5 billion bill, since the U.S. Department of Defense predicts that military operations in South Korea will cost the U.S. just under $4.5 billion (W5.28 trillion) in total next year.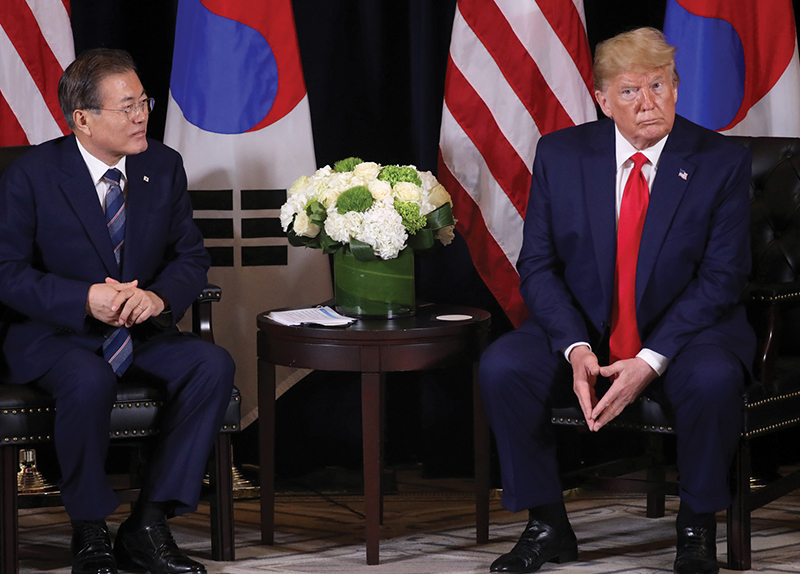 Korean lawmakers were upset at the proposal, which they feel was unreasonable. After the failed meeting, 47 politicians issued a statement in which they condemned the Trump administration's approach to the discussions. Many are now arguing that Korea must become self-reliant in its military defense, in case Trump decides to withdraw U.S. troops from the country entirely.
Korea appeared to offer a concession to the U.S. shortly after the meeting, when it postponed the termination of the GSOMIA, an intelligence-sharing operation with Japan. The government had announced that it would be withdrawing from the agreement in August, but the U.S. urged Korea to reconsider. Still, Korea's relationship with the U.S. seems to be strained, and a fallout could affect trade between the two countries as well as South Korean military involvement in U.S.-led international military operations in the future.
In a recent poll by the Korea Institute of National Unification, 91 percent of Koreans say that U.S. military presence is necessary. However, 96 percent of Koreans do not want Korea to pay more than they are paying, and about a quarter of people say that Korea is already paying too much.