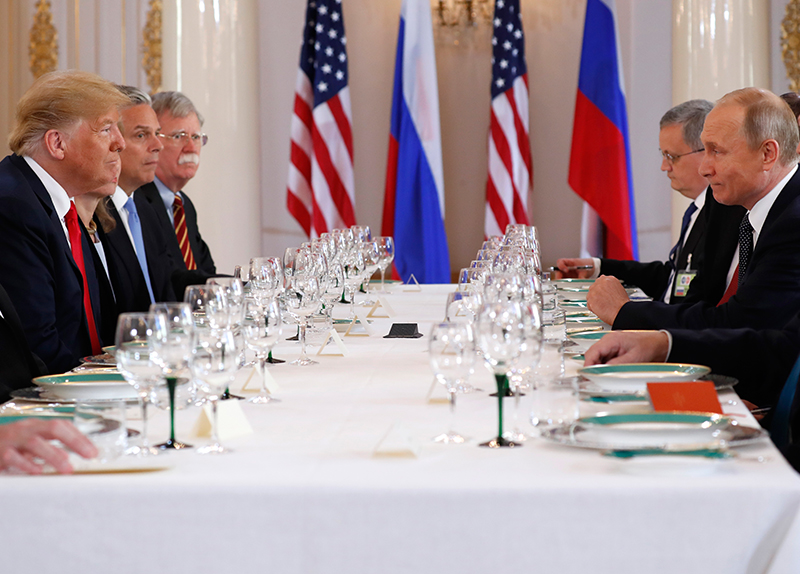 The U.S. and Russian presidents have met together for the first time since the election of Donald Trump in 2016. The long-awaited summit happened in Helsinki, the capital city of Finland.
Trump has been pursuing a more friendly relationship with Russia since he was elected. The two countries have historically been hostile to one another.
The meeting between the two leaders was held behind closed doors, so no one knows exactly what they talked about. However, both presidents spoke to the press afterwards.
President Trump was very positive about the results of the summit. He said that they spoke about a lot of important issues for both of the countries. He said it was important for them to cooperate. He also congratulated Putin for successfully hosting the World Cup.
President Putin called the talks constructive and successful, and he said it was important to restore trust between the two countries. "The Cold War is a thing of the past. Today, both Russia and the United States face a whole new set of challenges," he said.
Some of the topics discussed in the summit were the war in Syria, ISIS, terrorism, nuclear weapons, Russian interference in the U.S. election, and Russia's invasion of Ukraine. But very few details of the meeting have been revealed.
The only actual agreement that the two presidents made was to meet again later this year. Trump has invited Putin to visit Washington in the fall. If this happens, it will be the first state visit by a Russian leader to the U.S. in almost 30 years.
Although Trump and Putin were very positive about the results of the summit, many were not. Journalists and leaders worldwide have attacked Trump for pursuing friendship with Putin. Many people see Putin as a ruthless dictator with a bad human rights record. The Russian government has committed crimes in its own country, in Syria, in Ukraine, and elsewhere around the world.
In the joint press conference, the biggest topic was the issue of Russian meddling in the U.S. election. An investigation proved that Russia made an effort to get Trump elected. But Trump claimed that both countries deserve blame, and he was heavily attacked for his comments.
In response to criticism, Trump said on Twitter, "Putin and I got along very well, which truly bothered many haters who wanted to see a boxing match."