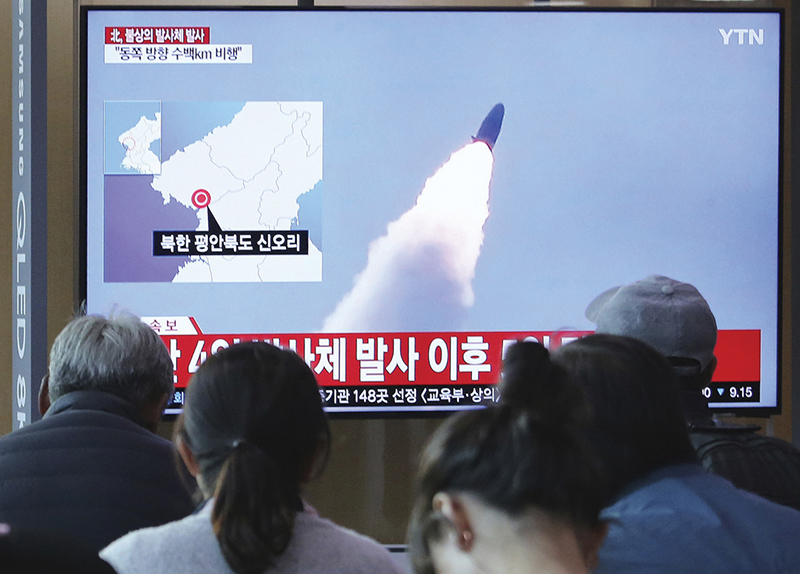 North Korea launched a pair of short-range missiles in early May, increasing tensions with the U.S. and South Korea.
The missiles flew between 250 and 450 km to the east before falling into the sea. They are believed to be Russian-designed missiles that are able to change directions mid-flight. It is unknown how North Korea acquired the weapons, but Kim Jong-un recently met with Vladimir Putin, who has expressed an interest in loosening sanctions.
The North Korean government called the launch a "normally planned drill," but many experts believe that it was a strategic move by Kim. They say he may be trying to encourage the U.S. to re-engage in talks after his most recent meeting with Donald Trump ended in disagreement. At the same time, Kim may be trying to motivate Moon Jae-in, who he says is too worried about the opinions of the U.S., to re-engage with North Korea economically. He may also be sending a message to both countries, who have continued to participate in joint military exercises.
The missile launches come as North Korea's economy is struggling, with sanctions limiting exports. Recently, the U.S. seized a North Korean cargo ship that was detained in Indonesia last April for attempting to illegally export coal. The ship was the second-largest North Korean cargo ship, and by taking it, the U.S. has sent a message that sanctions will be enforced.
North Korea is also experiencing a severe food shortage. A report by the U.N. says that 40 percent of the population, over 10 million people, are in urgent need of food after poor weather and limited resources have resulted in the worst harvest since 2008. The government has lowered daily food rations to about 300 g of rice per person, and that amount is expected to be further reduced later in the summer. The food-rationing system previously failed in the late 1990s, which resulted in the death of about 3 million people.
Moon has advocated for South Korea to give food aid to the North in order to encourage a better relationship, but he wants the South Korean public to ultimately decide whether or not to help. Kim does not seem particularly interested in the aid, saying that more important issues need to be discussed first.
Kim Jong-un previously offered to sit down with Trump if he agrees to do so by the end of the year, but as of now, no meeting is scheduled.