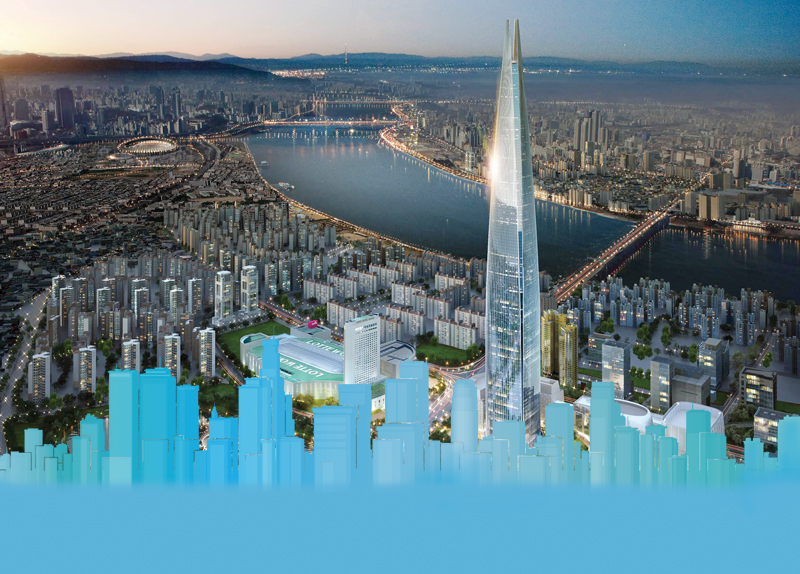 When you think of cities with the world's tallest skyscrapers, which ones come to mind? New York, Hong Kong, Shanghai, Chicago, Taipei, Dubai are all metropolises with mammoth-sized towers. Now, Seoul joins this elite list with the 556 m Lotte World Tower in Jamsil. Completed at the top, Seoul's new skyscraper is the fifth tallest building in the world behind only the Burj Khalifa (828 m), Shanghai Tower (632 m), Makkah Royal Clock Tower (601 m), and the Ping An Finance Center (599 m). Among countries in the OECD alliance, it is the highest with New York City's One World Trade Center (541 m) coming in second.
After 13 years of planning and six years of construction, the 123-floor structure was topped out on Dec. 22 last year. Designed by renowned American architecture firm Kohn Pedersen Fox, the design was focused on creating an elegant monument inspired by Korean ceramics, porcelain, and calligraphy. Although incredibly modern with built-in solar panels, energy-generating wind turbines, harvesting systems, and external shading mechanisms, the super skyscraper is an ode to Korea's past. The convex curvature of the enormous side plates is subtle and smooth, soaring magnificently into Seoul's southern sky. Lotte World Tower's 304,081 sq m of floor space will be divided into a 25-floor luxury hotel, 33 floors of office space, a 29-floor residence, 12 floors for luxury retail shopping, a six-level parking garage, and six floors dedicated to the observation deck. At the base, it is surrounded by the Lotte World Mall, a state-of-the-art, multi-level shopping and entertainment complex that will attract 50 million visitors every year. The man-made mountain will offer Koreans and tourists a never-before-seen view of Seoul from the top.
Many have questioned why Lotte, one of Korea's top five conglomerates, would build such an enormous and controversial building. From the beginning, the people of Korea have protested such a project with concerns over safety, necessity, and economy. Located on an active fault zone, Korea is susceptible to earthquakes which in the past, have prevented construction companies from building too high. For 18 years, the 63 Building in Yeouido stood as Korea's tallest structure. Since then, South Korea has continued to build higher and higher with luxury residential apartments in Seoul and Incheon's Northeast Asia Trade Tower (305 m) in 2011. Still, the construction of Lotte World Tower has caused a host of controversies including water outflows and sinkholes in surrounding neighborhoods, a heavy increase in land prices, and a bevy of construction-related accidents. Despite fueling an existing general mistrust of Korea's architectural engineering projects, Lotte has unequivocally pressed on with their groundbreaking commercial and financial center.
With the tower set to officially open by the end of this year, humanity's obsession with height has never wavered. The Great Pyramid of Giza (146 m) stood for nearly 4,000 years as the world's tallest structure. France's Notre Dame Cathedral (151 m) held the title for only four years. The Eiffel Tower (300 m) in Paris, completed in 1889, was the tallest for 41 years. And the Empire State Building (381 m), an icon of the New York City skyline, lasted 36 years. Although Lotte World Tower doesn't break any height records, the W3.7 trillion, steel and glass structure rises so high, it can be seen from almost every corner of the city. Lotte's super skyscraper and world-class shopping center, along with an existing theme park, department store, and underground shopping complex, creates one of Asia's premier commercial districts. In the face of controversy and safety issues, this mega skyscraper will be for decades an unmistakable landmark of Seoul's city skyline.