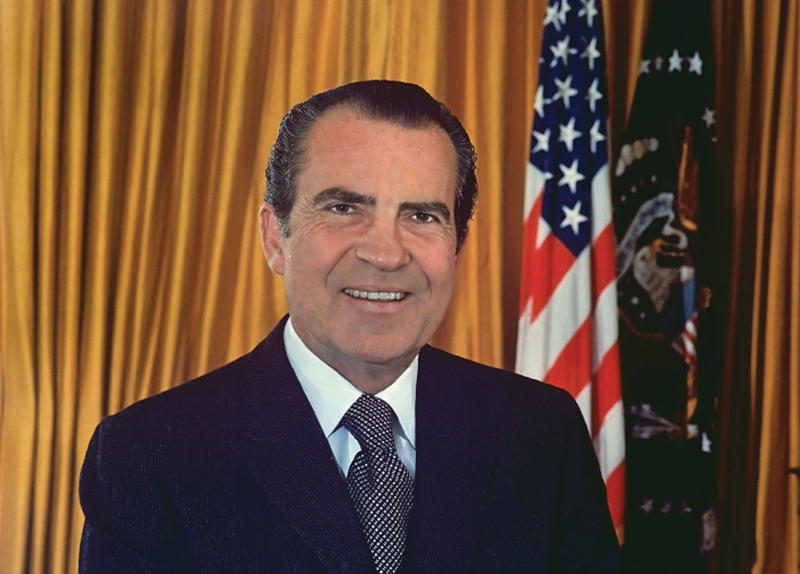 Richard Milhous Nixon was born on January 9, 1913, in Yorba Linda, California, U.S.A. Nixon was born and raised as a Quaker. He lived a life full of hardship, but always worked hard. He went to his hometown university of Whittier College and then went to Duke University's School of Law in 1937. After this, he moved to Washington DC in 1942 to work for the government.
During WWII, Nixon served in the Naval Reserve. In 1945, a family friend recommended Nixon for the Republican ballot for congress in California, and his political career began. Soon he became Senator, and then eventually Vice-President in 1952. He ran for President in 1960, but lost. However, in 1968 he ran and won. He opened diplomatic relations with China in 1972, enforced desegregation in Southern schools, and saw the Apollo 11 moon landing. He would be re-elected in 1972.
On August 9, 1974 he resigned in the wake of the Watergate Scandal. The scandal would be the greatest failure in his career. Nixon had arranged for his subordinates to break into a building and spy on Nixon's political enemies. When this was investigated, they found evidence of many crimes Nixon had committed. After a long investigation, Nixon resigned before he could be impeached.