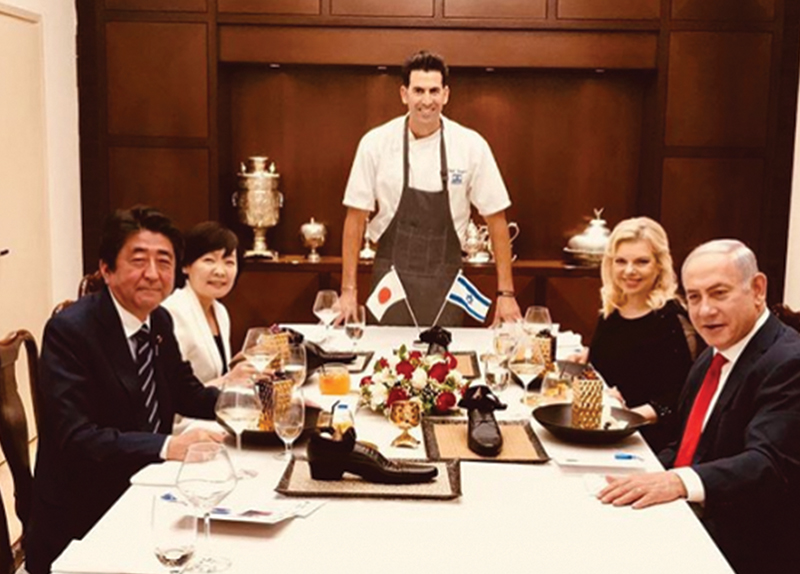 On a recent trip to Israel, Japanese Prime Minster Shinzo Abe was invited to a formal dinner with Israeli Prime Minister Benjamin Netanyahu. Along with their wives, they enjoyed a gourmet meal prepared by Israeli celebrity chef Segev Moshe.
The dinner seemed to be going fine. Everyone enjoyed the food ? until the dessert course, that is. The diners were served delicious chocolates beautifully arranged inside a shoe!
Israeli news media reported on the event right away. Many were shocked and angry. "There is nothing lowlier than a shoe in Japanese culture," one Israeli official said. "This is disrespect of the first order." One Japanese diplomat said, "There's no culture in the world in which you put shoes on the table. We don't think it is funny. We were offended on behalf of our prime minister."
In response to the outrage, the Israeli Foreign Ministry said that it didn't approve the dessert beforehand. It also expressed respect for both the chef and the visiting prime minister.
Segev, the chef, also cooked for a recent dinner with Netanyahu and American President Donald Trump. He posted a picture of the shoe on Instagram, and his publicist gave a statement about the shoes. They were not real shoes but metal sculptures created by the artist Tom Dixon. Dixon's art appears in museums around the world.
But Segev's Instagram followers were not forgiving. Many commented that it was a bad idea. They thought he should have had a better idea about Japanese culture. Some people thought it was disgusting and ignorant. In Japan, shoes are considered dirty. It is impolite to wear shoes indoors, especially in someone's home. It is normal in Japan to remove your shoes before entering a house, a temple, or even many restaurants. People even take off their shoes in many offices.
However, Prime Minister Abe himself did not seem very offended by the shoes. In fact, he praised the chef for the whole meal and even invited him to come and cook in Japan.
The shoe was not the only controversy. Netanyahu complained that the Israeli news media did not give enough attention to the state visit. Japan is the world's third largest economy, and Prime Minister Abe visited along with many of his country's most important businessmen.
There were many more important things to talk about than shoes on a dinner table.