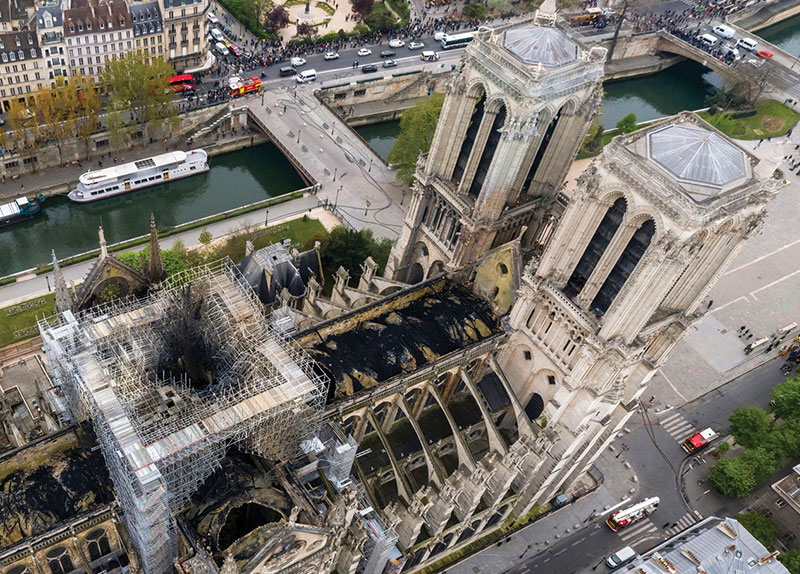 The Notre-Dame cathedral, one of the most popular and iconic buildings in France, was severely damaged in a fire that nearly destroyed it completely.
The fire, which burned for over 20 minutes before being discovered, began at 6:30 p.m. local time on Apr. 15. It took almost 500 firefighters nearly five hours to stop the blaze. By midnight, most of the wooden roof had been destroyed, including the iconic spire that had stood nearly 100 m tall. If the fire had continued for just 30 minutes more, the entire building likely would have collapsed.
It is unclear exactly where and how the fire started, but it was most likely caused by an electrical malfunction or human error related to the renovations being done to the roof.
Though some artwork being stored in the attic of the church was damaged, most of the religious artifacts were saved, including the crown of thorns that Jesus supposedly wore, a piece of the cross that he is believed to have been crucified on, and a nail possibly used in the crucifixion. A collection of statues that usually stands on the roof had been removed for cleaning, which saved them from destruction.
The construction of Notre-Dame began in the 1160s and continued for nearly 200 years, though the spire that fell was only added in the mid-19th century. Change is nothing new for Notre-Dame, as it previously withstood damage from riots, revolutions, and neglect through the centuries.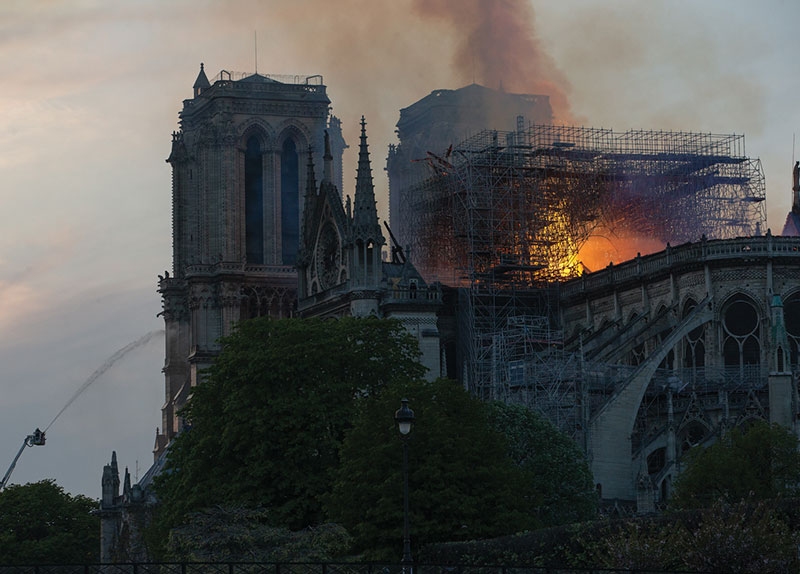 French President Emmanuel Macron has promised to rebuild the cathedral within five years, but experts believe that may be an almost impossible goal.
Almost immediately, more than 900 million euros (W1.1 trillion) was donated to help with the restoration of Notre-Dame. A large amount of money has been donated by the wealthiest people in France, which has angered those who are currently protesting economic inequality in the country. The protesters, called Yellow Vests, believe that more money should be spent on the poor and the environment than on a building, no matter how historic that building may be.
There will be an international architectural competition to find a design for the new roof and spire. The French are now debating whether to rebuild the roof and spire exactly as they were or add a new, modern design.
More than 12 million tourists visit Notre-Dame each year, and though entrance to the cathedral is now impossible, it will still likely be a major attraction to people visiting Paris.