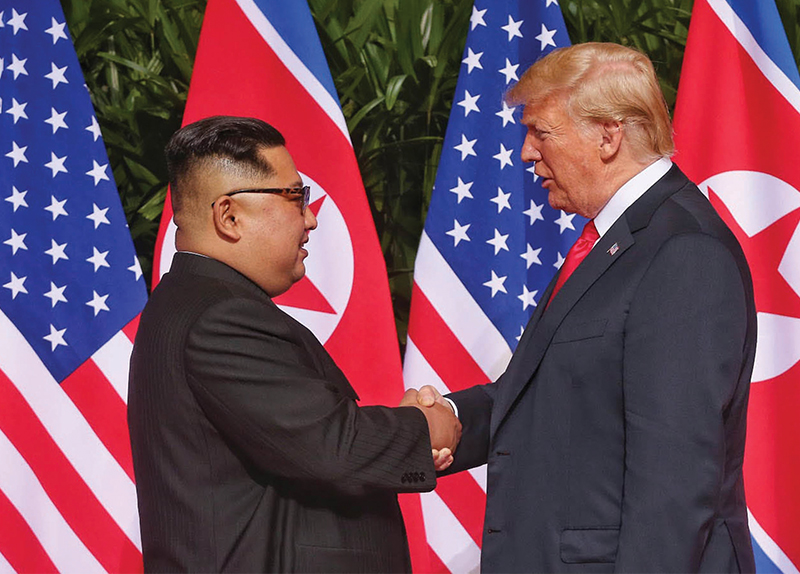 The Trump-Kim summit went off without a hitch.
The historic meeting was hosted and paid for by the island nation of Singapore, which wanted to do its part to help world affairs. Since Singapore is one of the few countries in the world that has diplomatic relations with both North Korea and the U.S., it was a natural choice.
Singapore spent $15 million (W16.5 billion) to pay for security, journalists, and a luxury hotel for the North Koreans. Trump and Kim each met separately with Singapore's Prime Minister Lee Hsien Loong before the summit. It was the first meeting between an American president and a North Korean leader.
The summit was broadcast live. It began at 9:05 a.m. when Trump and Kim met to shake hands. Then the two had a private meeting, accompanied only by interpreters. After that, there was a bigger meeting and a working lunch. Finally, they held a ceremony where they both signed a joint statement.
Trump and Kim discussed relations between the U.S. and North Korea. They also spoke about building peace on the Korean Peninsula. In the joint statement, Trump agreed that the U.S. would provide security guarantees to North Korea. North Korea, in turn, agreed to complete denuclearization.
There were four specific points: First, the two countries will establish official diplomatic relations. Second, the two countries will make a joint effort to pursue peace on the Korean Peninsula. Third, the two countries will work towards complete denuclearization of the Korean Peninsula, following the plan laid out in the Panmunjeom Declaration of Apr. 27. Fourth, the two countries agreed to recover and repatriate the remains of dead soldiers from the Korean War and after.
The U.S. and North Korea also agreed to have follow-up negotiations. After the meeting, Trump announced that the U.S. would stop conducting joint military exercises with South Korea and that American troops there would eventually be withdrawn.
Plans for the summit first began in early March, but both sides publicly threatened to cancel it. Eventually, however, things were agreed upon and the talks took place.
Responses to the summit have been mixed. Some people have praised Donald Trump for a monumental achievement. But others have criticized the meeting, saying that the leaders did not agree to any important details.