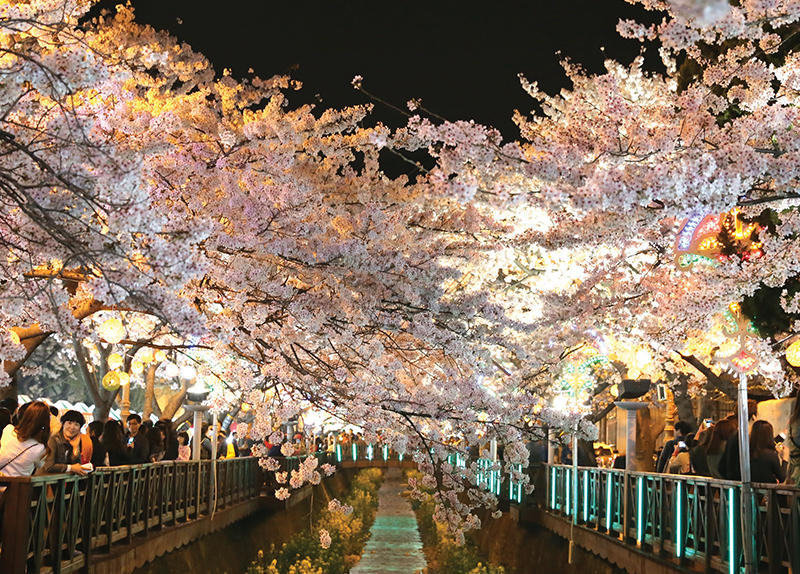 The weather is getting warmer and the spring flower season has finally arrived. A variety of beautiful flowers are starting to bloom, symbolizing new beginnings. Among the many different kinds of flowers, cherry blossoms are one of the most popular spring flowers, heralding the beginning of spring.
The cherry blossom is a symbol of the renewal of hope. They come in colors from light pink to bright red and are a sight to behold. A variety of cherry blossom festivals take place in countries around the world, including Japan, the U.S., and Korea.
Every spring, the Jinhae Jungwon Rotary is covered by splendid cherry blossoms. One of the largest cherry blossom festivals, the Jinhae Gunhangje Festival, will take place from Apr. 1 to 10. More than 360,000 cherry trees create beautiful scenery, with cherry blossom tunnels that have falling petals. The Jinhae Festival started in 1953 as a memorial service to commemorate Korea's national hero, Admiral Yi Sun-shin. Over the past few decades, it has developed into one of the most popular spring flower festivals, attracting more than 2 million visitors from around the world every year.
An array of programs are prepared every spring to entertain visitors, including cultural and military performances. In addition, visitors have a unique and special opportunity to visit Korea's naval academy and navy headquarters in Jinhae. People can enjoy a relaxing day walking along the Yeojwacheon stream lined by cherry blossom trees and take pictures with their loved ones on the beautiful bridges.