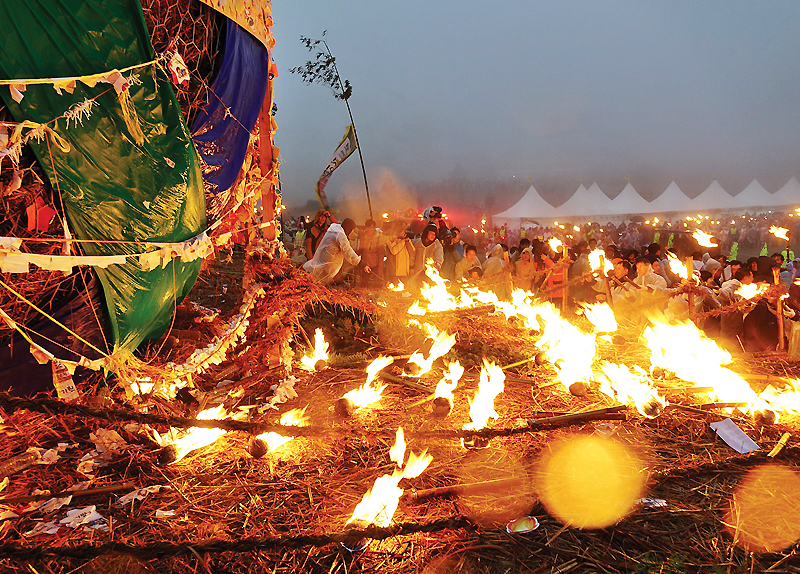 Jeju Island has long been one of Korea's most famous tourist attractions, attracting a large number of Koreans as well as foreigners every year. The beautiful region also plays host to a number of festivals and events throughout the year, with the Jeju Fire Festival being one of them.
Scheduled for March 2-5, the event will take place at Seabyeol Orum, a parasitic volcano located in the village of Bongsung-ri. Initially celebrated on the first full moon of the Korean lunar calendar, the event used to be called the Jeongwol Daeboreum Festival. It started in 1997 and developed into a leading winter festival that earned official designation between 2006 and 2014 from the Ministry of Culture, Sports, and Tourism한국체육관광부. It has also been one of Korea's leading festivals since 2015.
The original purpose of the festival was to pray for a bountiful harvest and good health in the New Year. The event's origin is from banggae, the old pastoral practice of burning old grass to get rid of pests and prepare for the growth of new grass between late winter and early spring.
The festival's opening event and torchlight ceremony are expected to attract numerous visitors. People will light up the giant wooden pyre called daljip, and then the rest of Saebyeol Orum. Activities will include folk games like field fire kite flying and horseback riding, cultural art and music performances including those for hope and global culture exchange, and a magnificent fireworks display. Best of all, admission is free.