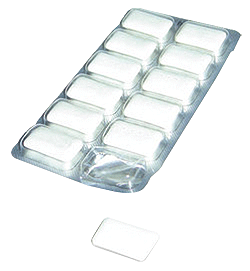 As kids we all hear the famous warning; "Don't swallow your gum!" "It will stay in your stomach forever!" Naturally, many children are so >terrified by the prospect of having gum clogging up their stomachs that they rarely risk swallowing after they have finished chewing. However, does it really stay in your stomach forever? While indeed gum is not good for your body it doesn't stay in your stomach forever. However, it will stick with you for a long time.

The most common warning is that gum will stay in your stomach for seven years if you swallow it. However, the human digestive system is capable of dissolving and excreting whatever we put through it in a matter of hours. Particularly tricky substances can take longer, but on average a few days is long enough for most substances to leave your system. Years are therefore nothing more than an urban legend. In fact leading stomach doctors have gone on the record to say that gum definitely doesn't stay in your stomach that long.

This is because the human digestive system tends to be very good at what it does; the moment food enters your stomach acids begin to break it down. Afterwards food is then worked on in the intestine, where it is broken down into its constituent parts. These parts are then used to fuel the body and give us energy - the precise reason we eat in the first place. The parts that can't be used to fuel the body are then sent to the colon and end up floating in the toilet.

For the most part gum is made up of four components, three of which our bodies can easily >break down. The flavorings, sweeteners and softeners used in gum are all taken care of with little effort from the human digestive system. However, it is the actual gum that the body has a hard time dealing with; gum is usually made from synthetic substances, which is what makes it chewy and stops it from breaking apart in our mouths. Nevertheless, once swallowed the gum itself is treated like all other types of food that the body has no use for and is sent out.

However, while swallowing gum doesn't result in your stomach piling up with gum as you eat more and more, the occasion medical case could explain why the urban legend about gum remaining in your body for so long continues. One case involved a boy suffering from chronic constipation for a whole two years due to swallowing five to seven pieces of gum each day. The cure for this condition was not pleasant either. Still, in this case the gum was not in his system for anywhere near to seven years.

So while gum may not stay in your system for many years the evidence still stands that swallowing gum is not a good idea.