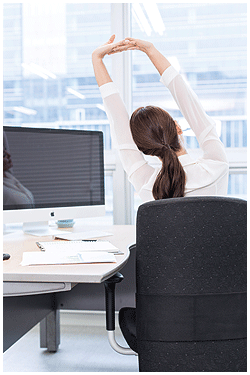 Got the winter blues? Get some sun!
New research shows that a lack of exposure to natural light not only leads to an increase in depressive symptoms but also results in a lower quality of sleep.
Researchers wanted to test the effects of natural light on people's feelings and sleep patterns. To do this, they gave twenty office workers special watches that measured exposure to light. These participants were separated into two groups - "with window" and "without window." They wore these watches for seven days, and on the final day of the experiment, each worker gave three saliva samples - one in the morning, the afternoon, and at night.
After analyzing the results, the researchers made a few findings. First, the "with window" group, which unsurprisingly received more light than the other group, had lower levels of cortisol, a hormone that is connected with psychiatric disorders and depression, than the "without window" group. Second, the "without window" group had lower nighttime levels of melatonin, a hormone that is produced in the evening when the sun goes down and makes us feel sleepy at night, than the "with window" group. The researchers posit that artificial light, like computer screens and light bulbs, tricks our brains into delaying the release of melatonin. The shortage of this hormone causes less fulfilling sleep.
This experiment shows that in order to avoid feeling down and out in the winter, try getting some more natural light, even if it means just sitting next to a window. You will feel happier and sleep better, too.