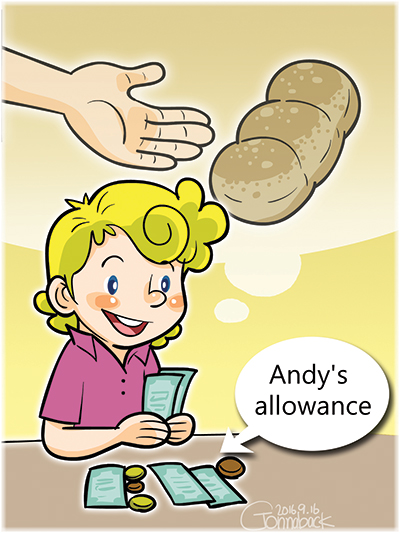 Dear Mina,
How have you been? Did you have a nice Chuseok? I hope you had lots of good food and fun with your family.
I wanted to ask you something! ① I'm going to do a short presentation about charity at school, so I picked up a donation card. I've been asking everyone if they donate, too. Guess what? I found out my parents have been donating for years! ② I'm so proud of them!
My parents told me it's important to help others. So ③ I'm going to use my allowance to help a kid in Africa get food! ④ I'm also going to volunteer at a homeless shelter on Thanksgiving and help give out free meals! I'll have so much to talk about with my friends and teachers. I'm so excited!
Are you doing any charity work, Mina? It would be awesome if we could meet up and help people in Africa someday in the future!
Andy
Dear Andy,
I had a great time during Chuseok! I had a lot of fun with my cousins and had so much delicious food last week. ① I feel like I gained a lot of weight! I need to work out more.
By the way, that's amazing! I know ② we should help our neighbors in need. I sometimes put my coins in the Salvation Army's charity pot, especially around Christmas. Plus, ③ we take school trips to social welfare organizations once a year for volunteer work.
Unfortunately, ④ I haven't done any volunteer work on my own. My aunt has been sending money to kids in Africa for three years. They even exchange letters and she wants to visit Africa someday to meet them. I think she's doing a great job. When I grow up and become a working woman like my aunt, I'll do the same thing. I'll definitely join you in Africa by then!
Mina