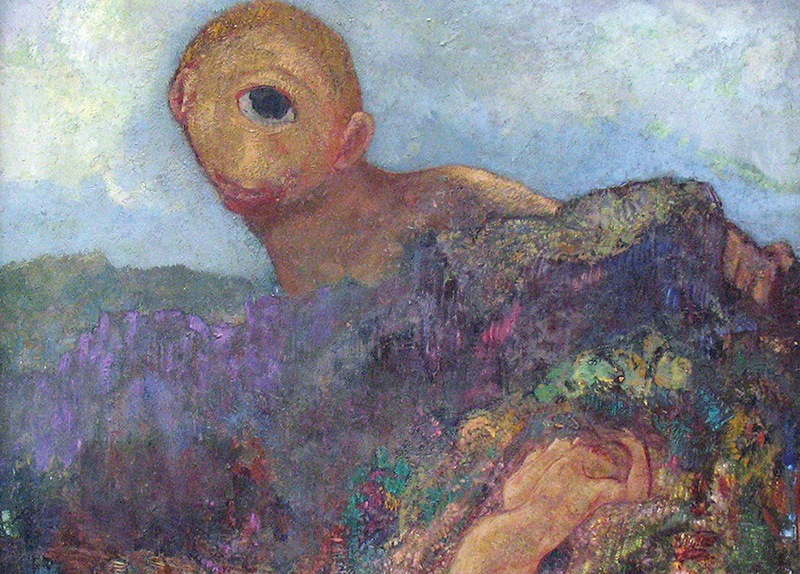 Starting out as a literary movement in France, symbolism was a late 19th-century art movement that has often been compared with surrealism in that its depictions often made little sense. However, there is one stark difference between the two. In surrealism, the depictions were supposed to be unreasonable and absurd. In symbolism, however, the illogical and nonsensical depictions were meant to carry special meanings. In other words, symbolism advocated the expression of specific ideas with the use of meanings that were hidden behind various elements, including colors, forms, lines, and shapes.
Born in Bordeaux, France, Odilon Redon was one of the leading figures of symbolism. One of Redon's paintings that shows a wide range of his exceptional symbolism techniques is the oil painting titled The Cyclops, which was produced in 1914. The painting is set in an inexplicable, fantasy world in which the cyclops Polyphemus is portrayed as the main subject. Polyphemus was a one-eyed giant and the son of Poseidon and Thoosa in Greek mythology. He mainly hunted humans for food. In the painting, the giant is glancing at the Nereid Galathea, who is sleeping deeply behind a flowery hilltop. Galathea was one of the daughters born to Nereus and the Oceanid Doris. The inclusion of the giant and the female in the painting creates a strong tension, which symbolizes the turbulent era that Redon had to go through at that time. The tension is also reinforced by the stark difference between the colors used to depict the dark and dull sky and the hilltop covered with vibrantly colored vegetation.
The Cyclops is currently being displayed at the Kroller-Muller Museum in Otterlo, a small town in the province of Gelderland in the Netherlands.