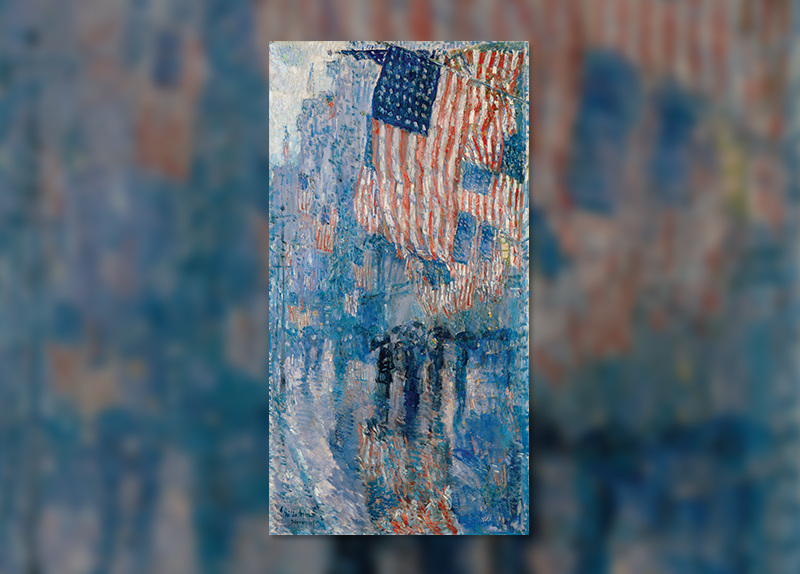 When Childe Hassam, born in the American city of Boston, studied art in Paris between 1886 and 1889, he significantly fell under the influence of Impressionism. Started in France in the late 1800s, Impressionism can be characterized by the use of contrasting colors with bold brush strokes. After Hassam returned to the United States in 1889, he devoted many years to promulgating Impressionism to American society by producing multiple artworks depicting urban scenes with the use of Impressionism's unique features.
The Avenue in the Rain is an oil on canvas painting that includes the unique features of Impressionism. Measuring 106.7 cm by 56.5 cm and being part of Hassam's flag series, the painting portrays several American flags lining Fifth Avenue in New York City in the pouring rain. The focal point of the painting is that the bright colors used to paint the American flags stand in stark contrast to the rest of the painting, which was depicted with mixed blue colors. This contrast allows the viewer to quickly focus on the flags, which are the essence of the painting, by making their colors appear more vivid.
Furthermore, as the painting was painted in February 1917, shortly before the United States joined the First World War and when Americans began to show an intense patriotic fervor for their country, the painting reflects his credo stated in 1892, which argues "the man who will go down to prosperity is the man who paints his own time and the scenes of everyday life around him."
The painting is currently exhibited at the Oval Office inside the White House in Washington, D.C.