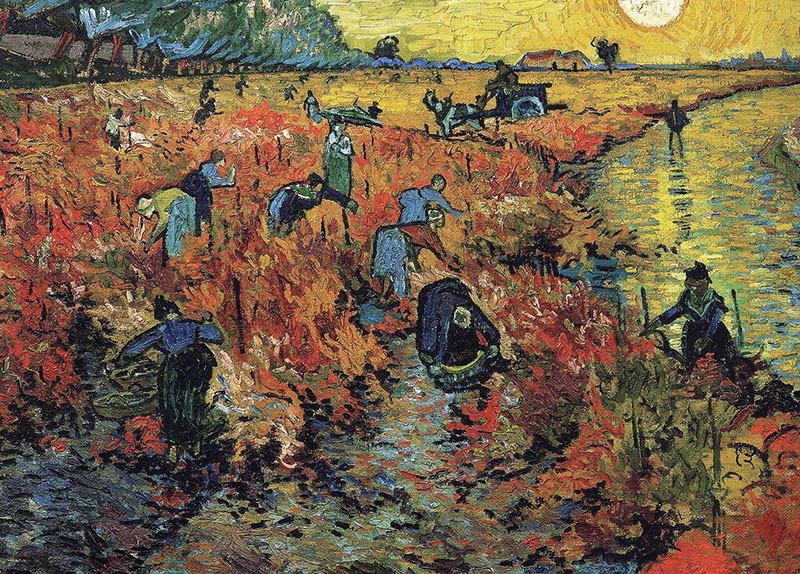 Despite his earnest efforts, Vincent van Gogh failed to achieve great success as an artist in his home country of the Netherlands. Contrary to what he had expected, he also experienced an unsuccessful artistic career in Paris when he moved there when he was 33 years old. Therefore, he relocated to the French commune of Arles, where he decided to rent part of a yellow building to share an art studio with French artist Paul Gauguin.
Among the numerous artworks Van Gogh painted during his stay in Arles, an oil painting titled The Red Vineyard at Arles, completed in 1888, is worthy of immense attention, as it became Van Gogh's only artwork that his brother Theo sold as an art dealer. As the title indicates, the painting captures a group of hardworking harvesters in a vineyard near a river glistening with a warm evening sunlight. Interestingly, Van Gogh did not produce the painting in front of a vineyard. Rather, he created it at the yellow house completely drawn out of his imagination a day after he made a visit to a nearby vineyard. The painting can be characterized by its inclusion of striking colors, as it shows a stark change from the luminous yellow used on the right side to the dark red on the left side.
Anyone who is interested in appreciating the painting in person can do so by visiting the Pushkin State Museum of Fine Arts in Moscow, the capital of Russia. Opened in 1912, the Pushkin State Museum of Fine Arts attracts thousands of visitors for being the largest art museum of European art in the city.