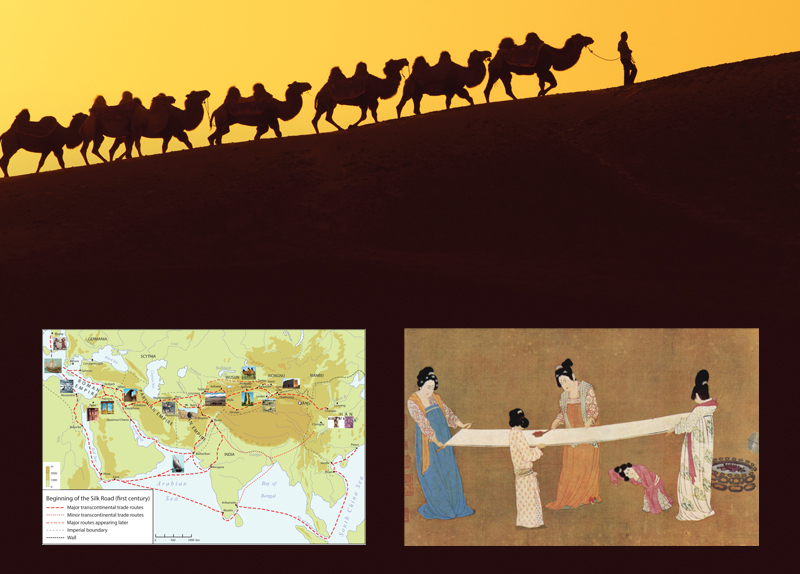 One of the most celebrated historic and cultural events also just happens to be the world's oldest and longest trade route! It is commonly known as the Silk Road. The name might sound plain and simple, but this road was used by merchants and traders for thousands of years. The trade route's story is full of adventurous spirit, a desire to conquer the hardships of the frontier, and magnificent triumphs for some of the world's greatest dynasties.
The Silk Road is approximately 7,000 km long, which is more than 20 times the distance between Seoul and Busan! The road actually consists of many different trails along the Taklamakan desert of Eurasia. The merchants made new roads when the old roads were too dangerous for them. However, the sheer distance of the Silk Road was not the only challenge travelers faced. The trade route was lined with thieves, greedy to steal valuable commodities like silk. But perhaps nothing was more punishing than the harsh climate of the desert. Even with the help of desert-faring animals such as camels, making the cross-continental journey through heat, cold, hunger, and thirst made fortunes grim. Many of the Silk Road's travelers perished along the way.
Still, the determination of the human spirit to achieve their dreams prevailed. Cultures from both East and West gained new perspectives and helped to develop the other. The Silk Road also introduced cross-cultural commerce, making their regions richer with the exchange of science, knowledge, and fresh ideas. This ancient road teaches us that no matter what hardships and misfortunes we face, we can achieve great things if we look toward a better future!