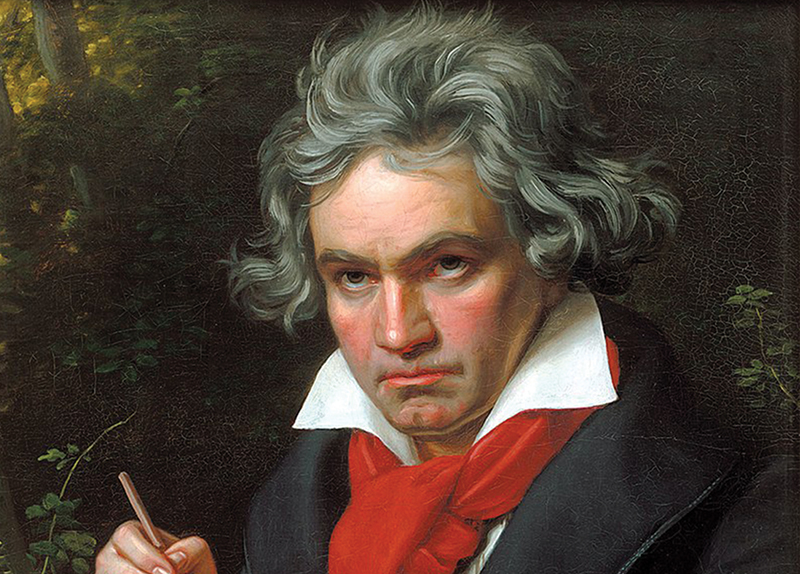 Beethoven was born on Dec. 17, 1770, in Bonn, Germany. Beethoven's life is divided largely into three parts: his early years when he became a student of Haydn and learned composition (~1802); his 30s and 40s when he grew out of the influence of Haydn and Mozart and began to develop his own, unique style of music (~1815); and the last years of his life when he completely lost his hearing and tried to overcome this handicap with his passion for music (~1827).
In music history, the 18th century that Beethoven lived in is called the Classical period. Classical music overlapped with the Age of Enlightenment and Revolution. As if playing the background music for such tumultuous social changes, classical music featured clear, simple notes. The contrapuntal complexity of baroque music was largely rejected by the masses. Music was no longer an exclusive form of leisure for the ruling class, and musicians began to compose and play music they liked instead of what the high and mighty few wanted. Beethoven himself is known to be a very proud man. He never bent himself to the nobility, despite the fact that they often sponsored Beethoven so that he could pursue music.
Beethoven's early pieces were influenced by Mozart and Haydn. However, such influences began to wear off in his later works. Symphony No. 3, for example, broke away from the existing musical norms, opening with two chords in fortissimo and going straight into allegro. The first movement of Symphony No. 3 continues for longer than the rest of the symphony combined and is filled with dramatic notes and emotions.