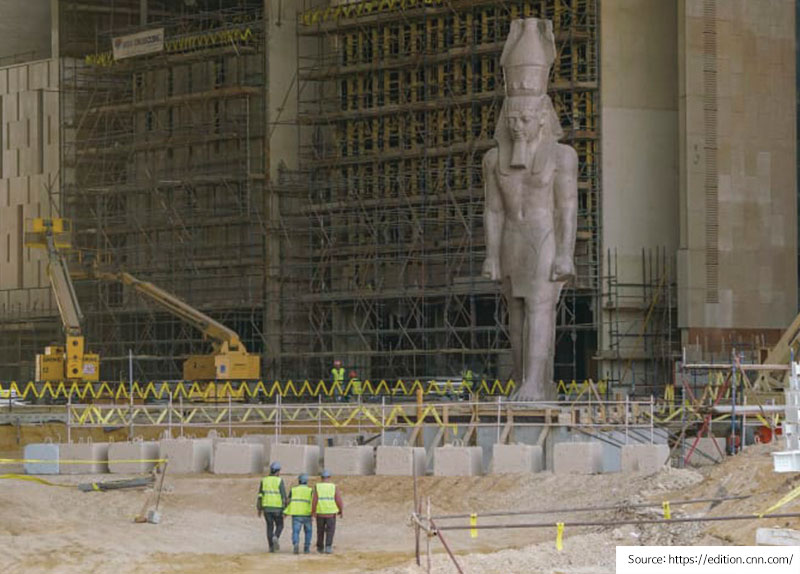 In Giza, the third largest city in Egypt, a 483,000 sq. m structure is under construction waiting to be opened as one of the largest museums in the world. According to Tarek Tawfik, the museum's director, it is expected to be opened by the end of this year and will serve as the new home to Egypt's relics that were previously placed at the Egyptian Museum, a notoriously crowded and old place, in Cairo's Tahrir Square. Along with a substantial amount of financial resources worth about $1 billion (W1.18 trillion), a lot of state-of-the-art technology has also been taken into consideration, with the hope of creating a high-quality environment for both the artifacts and visitors.
Along with construction, restoration is also taking place. Mohamed Yousri, a conservationist, has successfully repaired a pair of sandals that belonged to Tutankhamen, an Egyptian pharaoh during the New Kingdom period, even though more than 3,500 years of history had completely damaged the condition. Tutankhamen's sandals aren't the only artifacts that have gone through a restoration process. Yousri said that many conservationists, including himself, have developed a special adhesive that can almost completely restore tattered and broken artifacts into their original states.
In addition, Yousri and other conservationists are now remaking some of Tutankhamen's possessions. These possessions include his bed, jewelry, and more. Since this museum will house countless Egyptian relics, visitors will be able to experience ancient Egypt's culture almost directly.