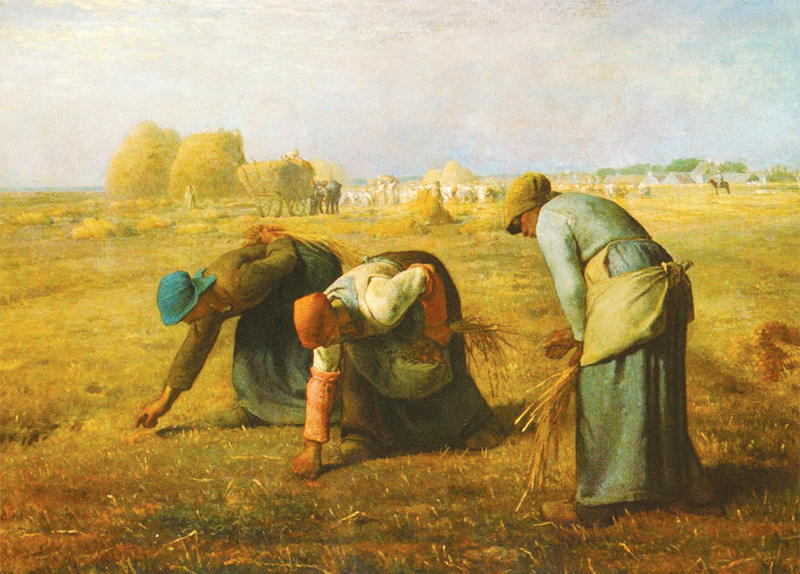 A well-known artist in Korea, Jean Francois Millet was born in Gruchy, Greville-Hague, France on Oct. 4, 1814. The son of a farmer, he spent his youth working on the family farm. He started to study art at the age of 18 in Cherbourg, and made his way to Paris in 1837. He earned scholarships and became the pupil of Paul Delaroche. Later in 1849, he settled in Barbizon, and focused his art on the lives of peasants.
When The Winnower was exhibited at the Paris Salon in 1848, it was Millet's breakthrough painting. Millet painted a peasant who was winnowing in an imposing manner. The art world and critics would be fascinated by this hero of the new age. In 1848, the 1848 Revolution occurred, and the monarchy collapsed. The Second French Republic was established and France suffered from financial difficulties. Artists, including Millet, started to paint realistic paintings reflecting reality. Before this, he painted historical and mythological figures instead of everyday people.
After the success of The Winnower, Millet began to draw the life, labor, and agony of peasants. He captured the everyday lives of farmers based on the land, and their surrounding landscapes. He kept submitting his work to the Salon, such as The Sower (1850), The Gleaners (1857), The First Steps (1858), and The Angelus (1859). His works attracted a lot of attention and Millet had the honor as an established artist. In 1868, he was presented the French Legion of Honor award.