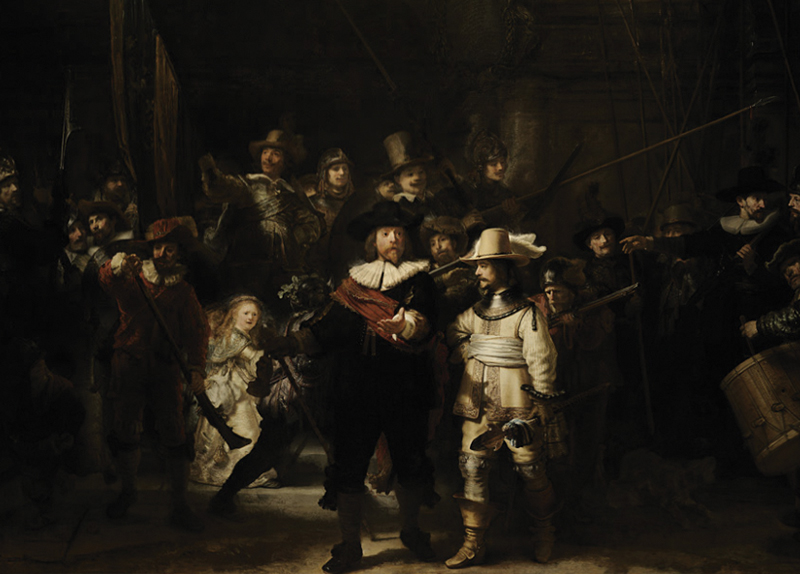 Produced at the peak of the Dutch Golden Age, Rembrandt Harmenszoon van Rijn's oil on canvas painting titled The Night Watch is one of the most renowned paintings created during the period. It was a particular period of time when Dutch art, military, science, and trade were the most acclaimed in the world.
The painting is a group portrait that captures a militia company led by Captain Frans Banninck Cocq, donned in a black garment with a red sash in the middle, and his lieutenant. The company was called upon when there was need to defend the city from riots.
The painting gained immense popularity for three reasons. First, the painting boasts a colossal size. As the painting has a dimension of 363 cm by 437 cm, it took three years for Rembrandt to complete it. Second, just like how Rembrandt became famous for his active use of light and shadow in his paintings, the painting shows the aforementioned features. With such features, Rembrandt was able to let viewers pay more attention to the three most important figures among the crowd. Along with the two men in the center, the woman carrying a dead chicken in the background is also one of the most important figures in the painting. The chicken represents a defeated adversary. Last, the painting depicts figures in action, as it portrays the company taking up their positions to march out.
Those who want to admire the painting in person can do so by visiting the Rijksmuseum in Amsterdam, the capital of the Netherlands. Established in The Hague in 1798 and moved to its current place in 1808, the museum is the largest of its kind in the country, with a total collection of around 1 million exhibits.