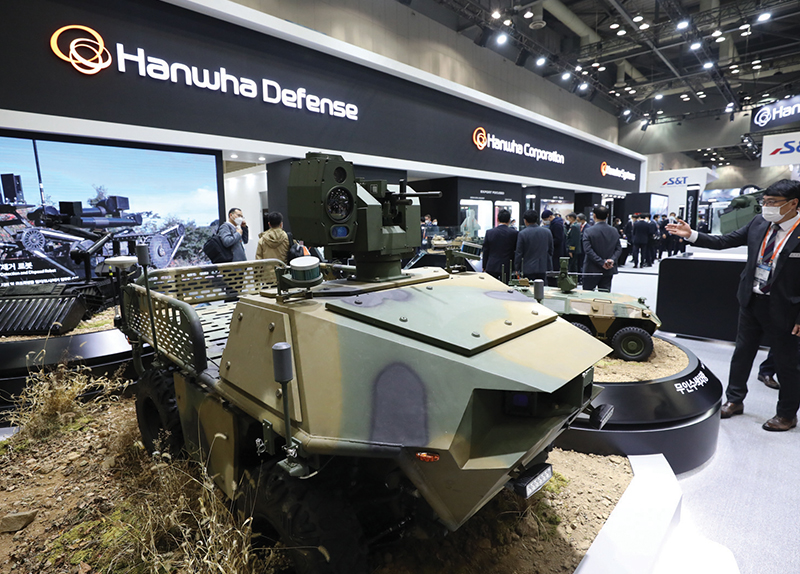 Since 2001, Korea has been focusing on diversifying its platforms with Fourth Industrial Revolution technologies such as artificial intelligence and self-driving. In particular, the country aspires to develop unmanned systems and defense robots that apply cutting-edge science.
In an attempt to gain innovative weapons based on advanced technologies, the Defense Acquisition Program Administration recently announced the Rapid Acquisition Program. It aims to encourage Korean arms industries to swiftly develop items with their technologies.
Among multiple inventions, multipurpose unmanned vehicles are considered the most practical item for playing various roles. Without any human assistance, they can carry multiple supplies and launch strikes on enemies after searching their fields.
According to military experts, Hanwha Defense and Hyundai Rotem were the most competitive powerhouses for the program. Although Hyundai Rotem's product was selected as the most competitive invention, experts say there was nothing to choose between them.
Hanwha Defense successfully developed a multipurpose unmanned vehicle that can be carried by a medium-sized military helicopter. It only weighs about 1,500 kg and is even smaller than a light car.
Meanwhile, Hyundai Rotem has developed an unarmed vehicle named HR-Sherpa. It can not only be used by military personnel, but it can also be used for civilian purposes. With a six-wheel electric driving system and airless tires, it is advantageous when it comes to rough driving. Since airless tires never blow out, it can be used for a long period of time.
The Defense Acquisition Program Administration eventually decided to send Hyundai Rotem's vehicle to the military in 2021.