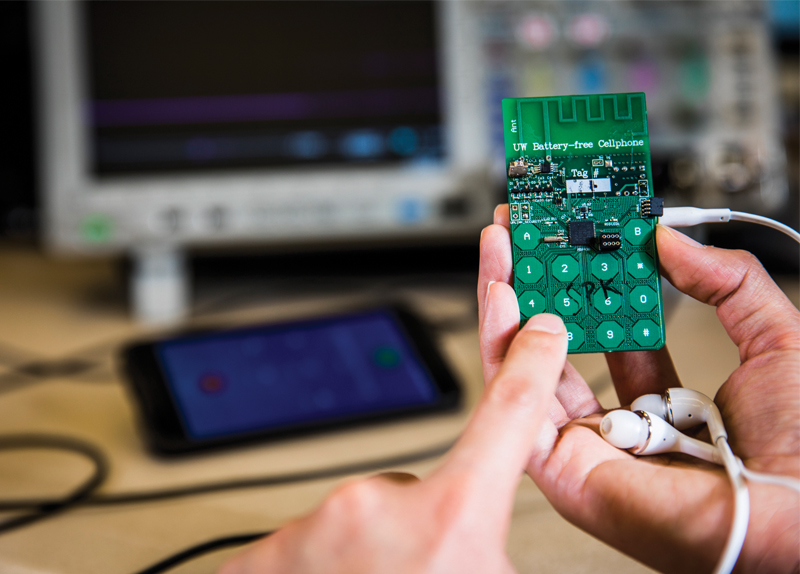 Researchers at the University of Washington have developed a mobile phone that can make and take calls without any need for a battery. The device harvests a few microwatts of power from ambient radio waves and light, and has been used to make Skype phone calls, receive incoming calls, and put callers on hold.
Although this device may revolutionize the mobile phone industry, it is more the method of transmission that makes it so spectacular. While normal mobile phones convert sound into data and take up a lot of energy, this phone does not. To transmit speech, this phone uses vibrations from its microphone to turn speech patterns into data signals. To receive speech, it converts the radio data signals into vibrations that are then picked up by the speaker. In doing so, the process takes up almost no energy, keeping the device self-sustainable. In fact, the device could communicate with a cellular station 50 feet away.
Unfortunately, the technology is far from perfect. The current device requires a button to switch between transmitting and listening modes. In addition, being battery-free means that it has to 'sleep' to conserve power, making direct conversation difficult. Essentially, the time it takes to charge for a call may require small pauses between conversations, hence the transmitting and listening switch.
Despite these issues, it is still a huge leap for energy-free mobile telecommunication. The development of this technology will definitely change the future.