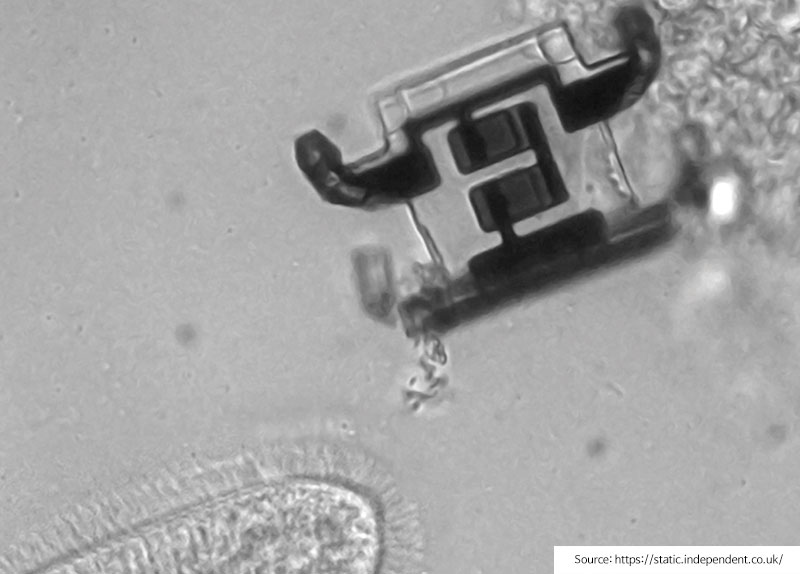 A new technology has taken its first steps. Microbots, or small robots, which could help with scientific research as well as medical treatments, are being produced by engineers in the U.S.
These robots are microscopic ? about the size of a cell ? and can survive extreme conditions. They are small enough to pass through the tip of a needle, which may one day be used to inject microbots into human beings.
The microbots use silicon chip technology, which allows a large amount of information to be stored in a small space. The chips are placed on a small glass body and connected to four small legs, which are made by attaching a layer of platinum to a layer of titanium. When an electric current is sent through the legs, the platinum contracts but the titanium does not, causing the legs to bend.
The electricity is generated from solar power panels on the silicon chip. Solar power, however, would not be effective in dark spaces, so the engineers are hoping to find different power sources, such as ultrasound or magnetic fields. They are also working on equipping the robots with sensors, timers, and controls.
The engineers believe these microbots will one day be used to clean larger electronics or monitor human bodies. They could possibly even help cure brain diseases and clean arteries.
Some imagine a future in which microbots attach to people's brains, possibly making the internet accessible by thought. Rather than making robots behave like humans, the future of artificial intelligence may be making humans behave like robots.