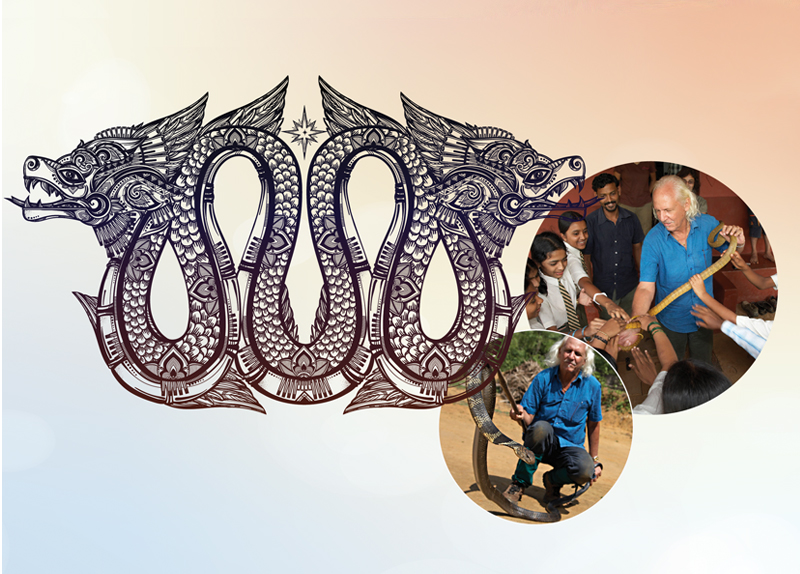 Romulus Whitaker, 73, is a naturalized citizen of India. The world-renowned snake expert and wildlife conservationist has traveled around the world to study and protect his reptilian friends. Now he wants to save more than just ophidians and gavials. He is trying to research and preserve rainforests and the environment.
Born in New York City in 1943, Whitaker developed a love for snakes from an early age. He caught his first snake when he was just four years old. His love for the scaly creatures progressed further when his family moved to India. His stepfather worked in Bollywood, the Indian film industry. Whitaker continued his education at Kodaikanal International School and then attended the University of Wyoming back in the U.S., but he was drafted by the U.S. Army during the Vietnam War and worked as a medic. After the war, he studied in Miami and began his career as a herpetologist. He got a job on a merchant ship and that took him back to India.
Whitaker eventually founded the Madras Snake Park, the Andaman and Nicobar Environment Trust, and the Madras Crocodile Bank Trust. He even won a Rolex Award for his work toward building many rainforest research stations across India. These stations are still being built for use in research and education. With his colleagues, he documents climate change and its impact on rivers. His nickname is the "Snake Man of India," and despite his advanced age, he has no plans to retire.