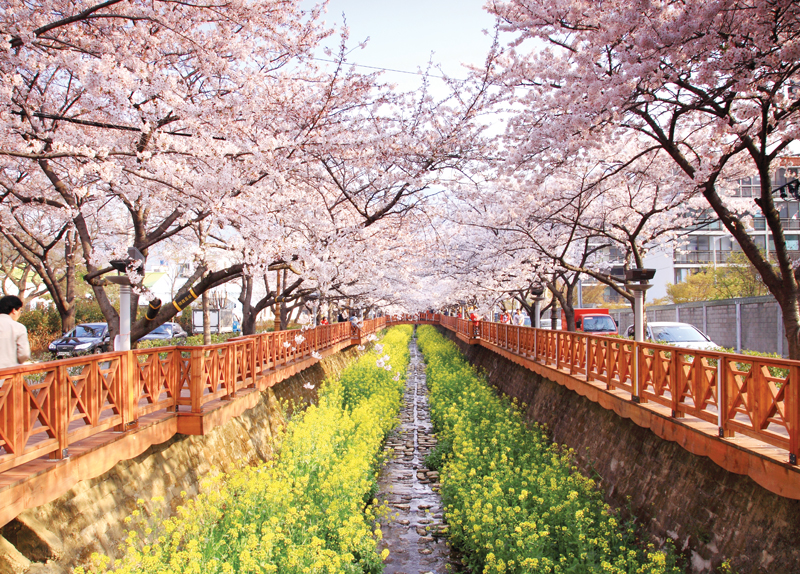 When spring comes, the various colors of spring flowers including the forsythia, azalea, and dandelion herald the arrival of the new season. The cherry blossom is the leading spring flower that signifies the coming of spring. Numerous cherry blossom festivals are being held across the globe including Japan, Canada, and the U.S. Korea is no exception, and two major festivals here will feature cherry blossoms.
Jeju Island is the country's best place to see cherry blossoms, as the area is the first place where the flower blooms in Korea. The Jeju Cherry Blossom Festival will be held in Jeonnong-ro, Jangjeon-ri, and Jeju National University from March 31 to April 9. The programs prepared for the festival include a cherry blossom photo contest, music festival, and flea market. A seminar on Jeju cherry blossoms will also seek to raise the academic value of the island as a cherry blossom habitat. This event can be enjoyed day or night thanks to a vast lighting system.
In Seoul, the 13th Yeongdeungpo Yeouido Spring Flower Festival will be held on the road behind the National Assembly from April 4-10. Began in 2005, the event has attracted numerous visitors as a leading cherry blossom festival of Seoul. Visitors can walk along the Han River through a tunnel of these magnificent trees. Nearly 90,000 spring flowers will create majestic scenery across Yeouido Park. Throughout the festival period, the variety of events will include cultural street performances, flower decoration display, and photo exhibit.